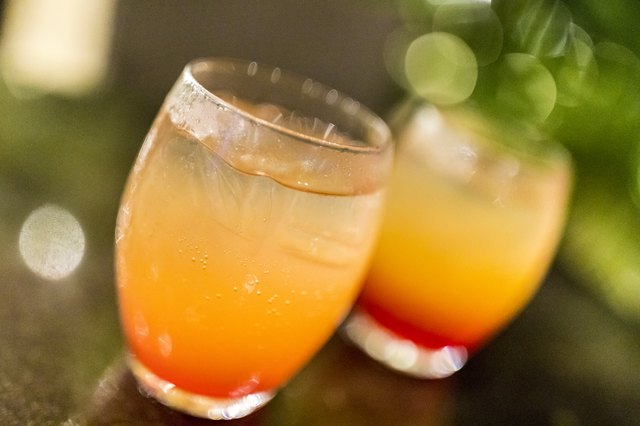 Vodka and grenadine both have a permanent place behind every bar and any in self-respecting drinks cabinet. Vodka, of course, for its clean taste and unmatched versatility, and sweet-tart grenadine, a nonalcoholic syrup famous for its bold red hue, to give any drink a striking appearance. Grenadine's color originally came from pomegranate juice, although most makers today use artificial dyes. If you prefer to stick with the real fruit version, substitute homemade or store-bought pomegranate syrup. Many classic vodka drinks can include a dash or two of grenadine, but consider some little-known mixed drinks that bring the two great ingredients together with delicious results.
For Anytime
A simple but delicious vodka and grenadine cocktail is the Firefly. Simply mix one part vodka with two parts grapefruit juice and add a splash or two of grenadine. Not only does the grenadine add flavor and color, it also balances out the tart grapefruit flavor. Use freshly squeezed grapefruit juice to give this basic cocktail a special twist.
For a Special Occasion
When celebrating a special occasion or just enjoying a night with friends, the Golden Raspberry is the perfect "fancy" cocktail. Add one part Jagermeister and one part tequila to 1/2 parts each of vodka, grenadine and raspberry juice. Shake the ingredients over ice and enjoy this delicious fruity cocktail – be careful as this drink packs a delicious punch!
For a Summer Night
The Fourth of July is the perfect vodka and grenadine shot to enjoy during a beautiful firework display, but it also works really well for any summer barbecue or party. In order to give this shot a beautiful red, white and blue layered look, pour the ingredients in the following order: 1/2 part grenadine, 1/2 part vodka, finished with 1/2 part blue curacao.
For Christmas
The Candy Cane is a perfect holiday cocktail featuring vodka and grenadine. The Candy Cane requires more ingredients than a standard cocktail, but it is sure to be a hit with your holiday guests. To serve Candy Canes mix equal parts berry-flavored vodka, peppermint schnapps and white creme de cacao. Add a splash each of half-and-half, soda water and grenadine to taste. Cut out some of those extra holiday calories by substituting light coconut milk for the half-and-half. Use crushed peppermint candy to rim the glass or sprinkle on top of the cocktail for a festive presentation.
For Halloween
When planning a Halloween or costume party, a fun way to play on the theme is to create a signature drink. Dracula's Kiss is the perfect cocktail to combine vodka and grenadine and keep your guests screaming for more. This drink requires coating the bottom of your glass with grenadine before adding ice and 1 oz. of black cherry vodka. Fill with cola (use diet if you prefer it) to create a layered look with red "blood" on the bottom and garnish with maraschino cherries.