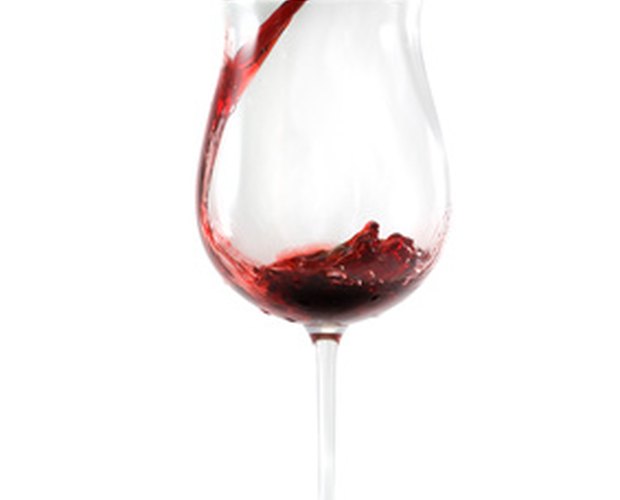 red wine pouring down from a wine bottle image by mashe from Fotolia.com
Tannins are an acid found in red grapes. These tannins can add a deeper, more intense flavor to wine. The smooth flavor makes a great pairing for red meat dishes and chocolate desserts. Wine high in tannins are also good for your heart and can be imbibed with moderation as part of a healthy diet.
Cabernet Sauvignon
Cabernet is a deep red wine that has a silky aftertaste. It also contains the highest amount of tannins. The wine is aged in barrels for a longer time to produce a more robust flavor, therefore increasing the levels of tannins. The Merlot grape is used to make these red wines.
Syrah or Shiraz
Syrah wine, also known as Shiraz, is a full bodied red wine that contains a high amount of tannins. It can also have a fruity, berry type after taste. This wine tastes best when it's been aged for longer and can develop an almost smoky flavor.
Zinfandel
While zinfandel is considered more of a blush wine, it still has a moderate amount of tannins. It has more of a fruity aftertaste but also some spicy notes as well. It is recommended that you keep zinfandel chilled for the best tasting wine. This wine is good for someone whoenjoys a dryer wine.