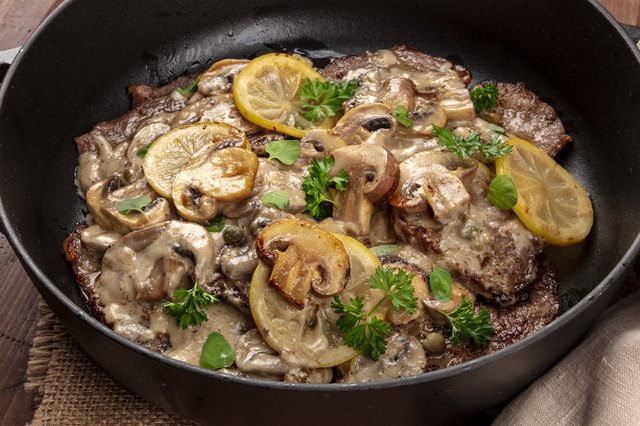 Plateresca/iStock/GettyImages
Veal is a moderately light meat and pairs well with medium-bodied wines. Traditional wine pairing restricts red wine to dark meats and white wine to white meats and fish. However, veal scallopini can be paired with either, as the veal is light enough to pair with a dry white, yet the preparation of scallopini is rich enough to blend with a fruity red. Thus the best wine to pair with veal scallopini is the wine you prefer to drink.
Pair a Merlot with a mild to medium-spiced veal scallopini. Merlot is a medium-bodied red wine with a low tannin level. Most Italian Merlots are soft and fruity with undertones of plum and red berries. Due to the low level of tannic acid, Merlot appears sweeter than most full-bodied dry wines because the fruitiness is not masked by the acidity. The fruitiness of Merlot pairs perfectly with veal scallopini, particularly when the batter contains spices or when a rich sauce is used.
Pair a Pinot Grigio with a creamy veal scallopini. Pinot Grigio, known as Pinot Gris in France, is a light, dry Italian white with high acidity levels. It is usually paired with seafood or chicken dishes; however, the crispness of a young Pinot Grigio balances the light flavor of the veal and counterbalances the richness of the fried batter. Do not pair Pinot Grigio with veal scallopini if a tomato or citrus sauce is used to dress the meat.
Pair a Sangiovese with veal scallopini prepared with tomatoes or a tomato sauce. Sangiovese is a light-bodied red wine from the Tuscany region of Italy. The wine is light, crisp and fruitier than a Merlot with predominant raspberry and strawberry undertones. Due to the low acidity in the wine, Sangiovese is the perfect match for food like veal scallopini that is fried in olive oil. Sangiovese also pairs well with tomato-based sauces and red meats.
Pair Chianti with a spicy veal scallopini prepared with cream or cheese. Chianti is the classic medium-bodied red wine of Italy. Also from the Tuscany region, Chianti has spicy and deep fruit undertones. Chianti pairs well with the richness of the battered veal, particularly if a rich cheese or cream sauce is used to finish. Like Pinot Grigio, the acidity in Chianti clashes with tomato-based sauces.
Pair Brunello di Montalcino with veal scallopini if you prefer an earthier red wine. Brunello is a rich clone of the Sangiovese grape grown around the town of Montalcinos. Though a clone, it is bolder than Sangiovese with rich chocolate, violet and wood tones and is higher in tannins. Brunello is a less fruity and less sweet option for pairing with veal scallopini.