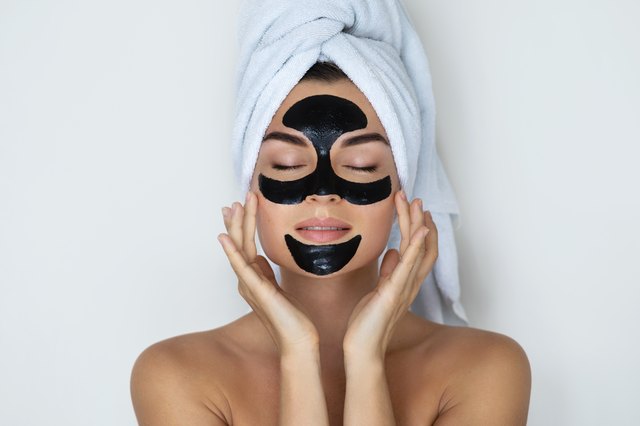 By now you've seen enough sooty, jet-black smiles on social media to know that activated charcoal is having a moment. From whitening toothpaste and deodorant to face masks and shampoo, it's popping up in tons of products across the aisles. It's actually nothing new—activated charcoal is the same stuff Cleopatra used to line her legendary eyes.
It's also the same stuff ER doctors use to treat poisoning and drug overdoses. That's because when it is ingested, activated charcoal traps toxins and chemicals in the body, allowing them to be flushed out instead of reabsorbed.
Applied topically, this fine, odorless black powder—usually derived from charred wood or coconut shells—works much the same way. It absorbs unwanted impurities (bacteria, dirt, build-up, yuck) and rinses them right down the drain. That can be beneficial for your skin, hair, and overall well-being.
Make your own activated charcoal beauty products
Here are a few simple recipes to make like Cleopatra and incorporate activated charcoal in your health and beauty routine. While it's available in bulk at many mainstream stores, for the best results, opt for a high-quality organic brand with ultra-fine grains. Note that most of these recipes call for capsules, which tend to be less expensive (and a lot less messy) than the big bags of powder. Just pop open the capsule and pour out the powder inside.
Acne spot treatment
No matter how old you are, pimples seem to pop up at the most inopportune times. Used on the spot, activated charcoal can quiet down inflammation, soothe redness, and draw out bacteria to banish blemishes.
Recipe: Dr. Edward Group of the Global Healing Center recommends mixing one capsule of activated charcoal with a half teaspoon of aloe vera gel to create a thick paste. Using a cotton swab, apply it to stubborn spots and let it dry for 30 minutes. Rinse it off with warm water.
For a total face treatment, try this pore-purifying clay-honey-charcoal mask from Wellness Mama.
Body scrub
Don't forget that your décolletage, back, and limbs deserve some attention too. While many body scrubs on the market contain synthetic chemicals, activated charcoal offers a natural way to detoxify and rejuvenate the body's largest organ. Bonus: Regular exfoliation also keeps annoying ingrown hairs at bay.
Recipe: Certified fitness nutrition specialist Britt Brandon says for a simple body scrub, combine one part activated charcoal powder with one part water and mix to make a dense paste. The gritty texture works as a great all-over exfoliator to reveal cleaner, softer, glowier skin. For this recipe, you'll need a bulk bag or jar of powder.
Skin soother
Activated charcoal has been used as a powerful antidote in Ayurvedic and Chinese medicine for thousands of years. Many practitioners use it to treat skin infections and wounds, but it's also awesome to have on hand to soothe common mosquito bites, bee stings, or rashes from poison ivy.
Recipe: To make your at-home remedy, Dr. Axe suggests mixing one capsule of activated charcoal with ½ tablespoon of coconut oil. Dab it on the affected area and reapply every 30 minutes until the discomfort subsides.
Clarifying shampoo
If your hair feels dull and lifeless, activated charcoal can help draw out built-up styling products, impurities, and oils that may be suffocating your scalp. To restore natural volume and vibrancy, treat your tresses to a deep-cleaning detox once a week.
Recipe: Glamour UK advises adding one capsule of activated charcoal powder to your regular shampoo and then wash and rinse your locks thoroughly. Fair warning: If you have light-colored hair, you may need to rinse extra thoroughly or follow up with a second wash of regular shampoo to remove all traces of black powder.
Truth be told, activated charcoal is not entirely glamorous. It can get messy (as in do not spill it on grouted tile or fabrics), but once you see the beautiful results, you just might think it's black magic.