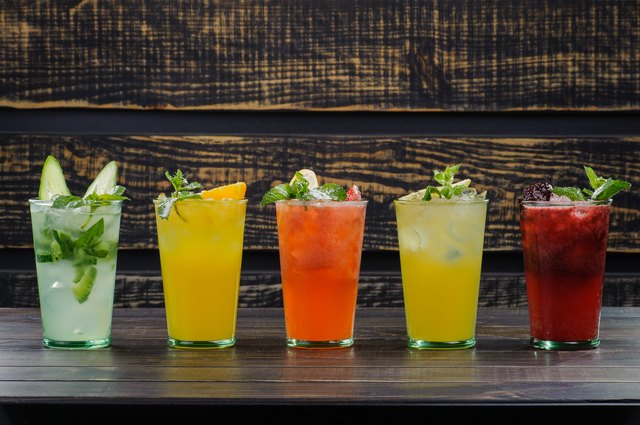 Distinguished by its subtly-sweet orange flavor, triple sec is a liquor that adds quality to the most basic of cocktails. The spirit dates back to 1834, when a Frenchman named Jean-Baptiste Combier combined sun-dried orange peels with triple distilled alcohol to create the strong, sweet beverage we're familiar with today.
Margarita
A classic Southwestern drink, the margarita is made by blending a mixture of alcohol, lemon/ lime fruit juice, and sweet and sour mix. To make a killer margarita, mix 1 1/2 oz. of tequila, 1/2 oz. of triple sec, 1 oz. of sweet and sour mix, 1/2 oz. lemon juice and ice cubes in a blender or cocktail shaker. Rim a margarita glass with salt and serve. Add more fruit juice or triple sec to taste.
Long Island Iced Tea
Long Island iced tea belies its name, as brewed tea is nowhere in the equation. To make: fill a glass full of ice and pour equal parts vodka, gin, rum, tequila and triple sec in the glass. Add two parts of sour mix and fill the glass with Coke. Mix thoroughly.
Toxic Waste
The name "toxic waste" may not conjure up sentiments of an appetizing cocktail , but it packs a fruity punch. Mix one part blue Curacao liquor with six parts orange juice and one part triple sec . Pour over ice and serve. For a stronger drink, increase the amount of triple sec and/or Curacao.
Kamikaze Shooter
To make a kamikaze shooter, mix a splash of lime juice in a cocktail shaker, add 1 oz. of vodka, 1/2 oz. of triple sec and some ice. Cover, shake and pour into a shot glass for a lemonade-flavored shot.
Horny Toad
For a coffee-flavored drink with a kick, try the horny toad. Combine coffee-flavored liquor and triple sec for a tangy, citrus-splashed coffee beverage. Layer equal amounts of heavy cream or half and half, coffee liquor and triple sec in a chilled glass and serve.