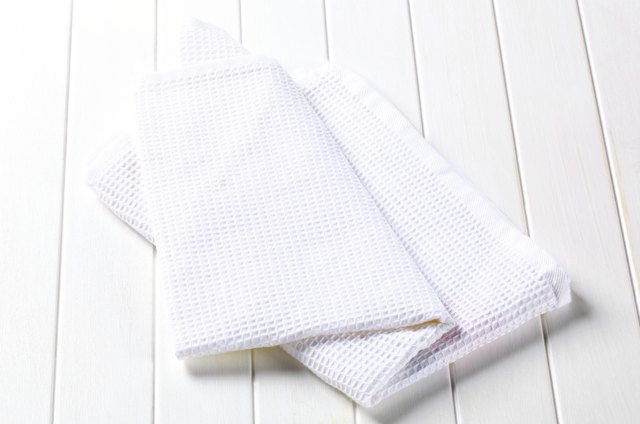 Tea towels have lost much of their importance from their origins as household linen in Victorian England. Their use has diminished with the decline of the tea time ritual but they've become popular as souvenirs.
History
The name "tea towel" originates from England about the early nineteenth century. The tea towel was the linen of choice for the ladies of Victorian England. They often personally used tea towels when caring for their teaware to avoid anything being broken by a careless servant.
Function
The tea towel's highly absorbent, lint-free and soft features appealed to ladies requiring the right towel to thoroughly dry their delicate china and serving pieces without scratching or leaving lint behind. The material tea towels are made from also provides a workable background to be decorated with embroidery. The ladies of this period often embroidered their own personal tea towels used during tea time to cover food or take care of any spills.
Materials
Original tea towels were made of linen, a natural fiber from the flax or linseed plants. Progress in manufacturing textiles changed the materials used to make tea towels to less expensive fibers, like cotton, that are used in modern dish towels. Only pure linen remains lint-free.
Types
The functional tea towel has been relegated to the cleaning shelf as a mundane dish towel by its modern cousin, the decorative tea towel. The days of hand-embroidering towels are also largely in the past, replaced by printing on the linen to make travel souvenirs featuring pastoral scenes, calendars, English monarchs and more.
Significance
Linen towels are still manufactured for kitchen use while tea towels are popular tourist souvenirs in Great Britain and Ireland.
References