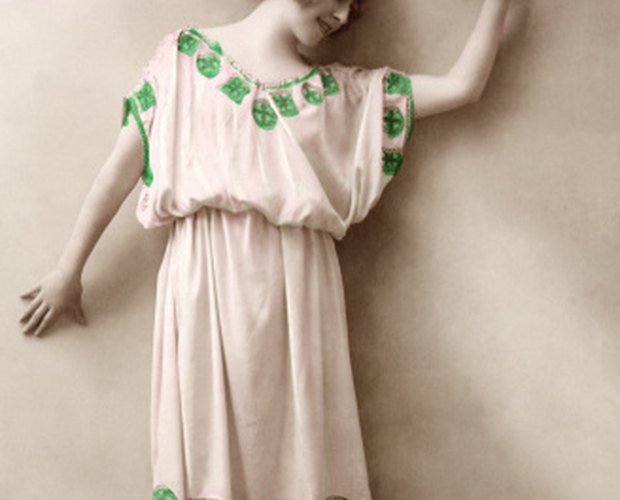 Brand X Pictures/Brand X Pictures/Getty Images
In the world of fashion, tunics and shift blouses can be considered "siblings" for the fact that they are very similar in style, but each possesses distinct characteristics. Depending on your personal style and outfit choice, either a tunic or shift blouse may be appropriate for your desired look.
Tunic Characteristics
Tunics have been worn throughout history by many different peoples, including the ancient Greeks and Romans. This common garment was worn in a variety of colors and made in a multitude of fabrics. Depending on the wearer's social status, the tunic may have differing levels of embellishment. In today's terms, a tunic can be described as an oversized shirt with large sleeves. While the neckline can vary in design, the hem of the shirt hits a person anywhere from the knee to the feet.
Shift Blouse Characteristics
While similar to tunics, shift blouses have their own characteristics. Becoming popular in the 1960s and 1970s, shift blouses are loose and billowy like tunics but, are much shorter and can be classified as shirts. Depending on the style of shift blouse, the neckline may be a sweetheart neckline, deep oval or boatneck. Shift blouses that represent a Bohemian-inspired style are often embroidered with a variety of designs. Along with this characteristic, shift blouses have small bell sleeves.
How to Wear a Tunic
Create a fashionable outfit with a tunic by choosing from a variety of accessories. Wearing a chic belt with a tunic can accentuate your waist. Add leggings for warmth on colder days. Dress up a tunic with bold necklaces, earrings or bracelets. When choosing accessories, it is important to edit your pieces so you do not overdo it. For example, if you are wearing large Bohemian style earrings with your tunic, do not wear a necklace. The combination will be too much and can look tacky.
How to Wear a Shift Blouse
Shift blouses can be worn with skinny jeans, leggings or shorts. You can create balance with a shift blouse by wearing pants with a tighter fit. If you pair a shift blouse with baggy pants, the overall look can make you look bigger than you actually are. When wearing a shift blouse with an embellished neckline, it is not necessary to wear a necklace.