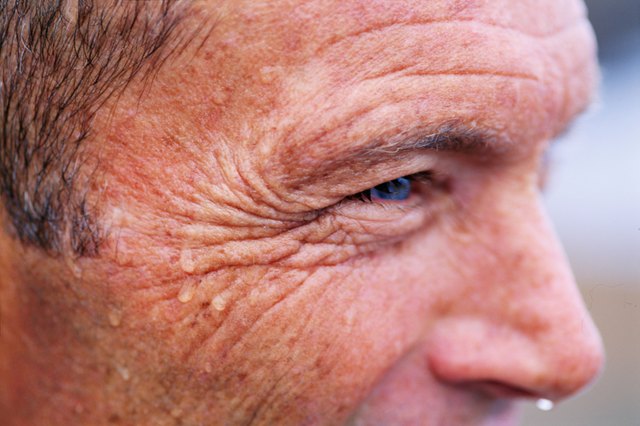 Jupiterimages/Comstock/Getty Images
Wrinkles and dark spots are common skin conditions with similar causes. According to grannymed.com, causes of wrinkles include age, smoking, sun exposure and diet. Sun exposure and aging are also two of the most common causes of dark spots (brown spots, age spots) on the skin, as are stress, poor skin care and acne. Fortunately, there are home, over-the-counter and medical remedies that may help prevent and treat wrinkles and dark spots on skin.
Remedies for Wrinkles
Consuming olive oil can help keep skin firm and supple. Add a small amount of olive oil to a pan when preparing meats, vegetables and other meals. Grannymed.com also suggests mixing olive oil with lemon juice to create a homemade salad dressing rich in antioxidants. You can also massage olive oil into your skin daily after steaming your face with hot water for an effective topical treatment that encourages collagen production. Another remedy calls for mixing about 15 drops of rose essential oil and 2 tbsp. of jojoba oil in a bottle and massaging it into damp skin daily to minimize the appearance of wrinkles. Rose essential oil contains antioxidants and antibacterial properties that may stimulate collagen production in skin in addition to moisturizing it. You can also use sweet almond, apricot kernel, grapeseed, hazelnut or olive oils in place of jojoba oil. Never apply rose essential oil directly to your skin, as it should always be combined with one of the carrier oils mentioned above to prevent skin irritation. You can also take grapeseed extract, a powerful antioxidant that may help improve and maintain skin's elasticity, daily. It also helps prevent damage to skin caused by the sun, according to grannymed.com. Massage an over-the-counter moisturizer or skin cream that contains grapeseed extract into wrinkles once or twice daily. In addition, apply a topical retinoid to skin to reduce fine lines and wrinkles. According to the Mayo Clinic, Renova, Retin-A and Tazorac are examples of topical retinoids. Nonprescription wrinkle creams that contain ingredients such as retinol, alpha hydroxy acids and kinetin may also reduce the appearance of some wrinkles. Surgical procedures and skin techniques such as dermabrasion, microdermabrasion, chemical peels, laser resurfacing, Botox injections and face-lifts are occasionally used to treat wrinkles, reports the Mayo Clinic.
Remedies for Dark Spots
Apply green tea lotion or cream to dark spots several times per day, as green tea contains antioxidants that may help reverse dark spots on skin. Use lotions, creams and soaps that contain shea butter to lighten dark spots, and wash your skin with shea butter soap and apply pure shea butter or shea butter cream or lotion to your skin throughout the day. Aloe vera products also help lighten dark spots. For best results, use them several times daily after exfoliating your skin. You can also use over-the-counter skin creams to reduce the appearance of dark skin spots, particularly those that contain ingredients such as hydroxy acid, kojic acid, alpha hydroxyl acids, glycolic acid, Retin A, vitamin E, vitamin C or salycilic acid. According to beauty-advices.com, products containing these ingredients are known to fade dark spots and prevent new ones from developing. Surgical procedures and skin techniques such as microdermabrasion, chemical peels and laser resurfacing may also be used to get rid of stubborn dark spots, according to beauty-advices.com.