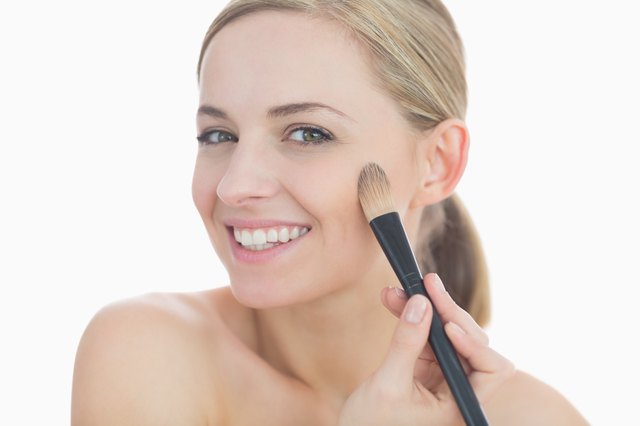 Wavebreakmedia Ltd/Wavebreak Media/Getty Images
High-humidity weather often results in oily-looking skin, which leaves foundation looking messy. To avoid appearing like your makeup is sliding off your face, opt for an oil-free foundation. Apply a primer and then lightly apply the oil-free foundation to your face. Use blotting papers during the day to reduce shine and leave your foundation looking smooth and velvety.
Humidity Makes Face Oilier
A rise in heat and humidity in the weather can cause your skin's oil production levels to increase. This is because excess heat and humidity increase sweat production, which means more oil and clogged pores. In anticipation of this, it's best to go with an oil-free powder or liquid foundation because they contain powders that absorb oil, leaving you with a smooth, non-melty finish.
Recommended Oil-Free Foundations
Elle and Oprah.com recommended several oil-free foundations. Clarins Ever Matte Skin Balancing Foundation is an oil-free foundation that tightens pores and controls shine. For a two-part foundation and concealer, Stila Stay All Day Foundation & Concealer has a long-wear, oil-free HD formula that comes with a concealer. Both foundation and concealer control oil and hydrate the skin. Clinique Pore Refining Solution Makeup is a lightweight, oil-free foundation that minimizes and even refines the appearance of pores. Jouer Matte Moisture Tint functions as both a hydrating moisturizer and oil-free matte foundation that stops oil-production. For an inexpensive option, you can purchase Neutrogena Skin Clearing Oil-Free Makeup from your local pharmacy. It's a foundation that not only nips oil but also treats and prevents blemishes.
Application
To make sure your foundation lasts without looking caked up or melted, wear a primer under your foundation. Recommended primers from NY Magazine include Obsessive Compulsive Cosmetics Primer, Hourglass Veil Mineral Primer, By Terry Hyaluronic Hydra-Primer, Becca Ever-Matte Poreless Priming Perfector, and Too Faced Primed & Poreless Skin Smoothing Face Primer). Lightly apply your foundation using a makeup sponge or brush. The key is not to overdo the application.
Carry Blotting Papers
To do away with any oil that appears throughout a hot, humid day -- you can't expect primer and foundation to completely get rid of oil in high-humidity weather -- carry around blotting papers. Blotting papers lift the oil from your skin without smudging your makeup. To use blotting papers without removing your makeup, take one sheet and lightly dab it on the oily areas of your face. Avoid rubbing the paper on your skin.