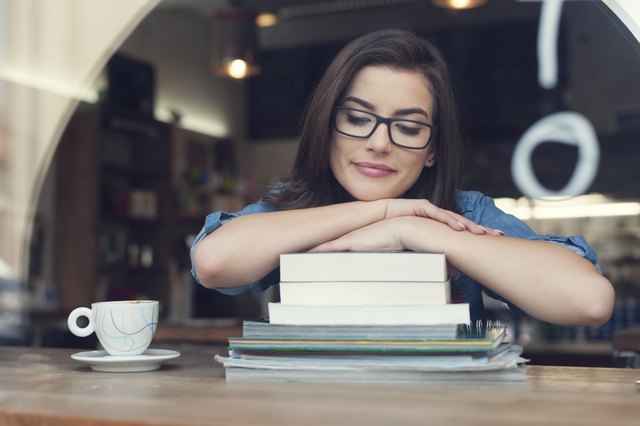 gpointstudio/iStock/Getty Images
There's no shame in being picky about choosing a flattering pair of specs. Eyeglasses cover a quarter of your face, including your most expressive feature, your eyes. Thick prescription lenses can weigh heavily on your face and distort how your eyes look to others, so choose a frame that satisfies your preferences for color and style while accommodating and downplaying thick lenses.
Lens Thickness
Conditions that require thick prescription lenses include myopia, or nearsightedness; astigmatism, which prevents proper focusing in the retina; and double vision, a problem helped by prisms in the lenses. The stronger the prescription, the thicker the lens. Consult a knowledgeable optician to help you choose the best frames for your prescription.
Frame Material
Thick lenses add to the weight of your glasses, so lightweight frames can help counter the heaviness. Plastic or metal frames are the best options.
Cellulose acetate propionate is a particularly lightweight plastic. Plastic frames tend to be thicker than metal ones, but they're good for hiding some of the thickness of the lenses.
Titanium metal frames have strength and durability going for them, and they come in a variety of colors. Beryllium is also a strong metal, but it's a more lightweight and less expensive alternative.
Frame Size
Frame sizes are the total width in millimeters from the outer edge of each side at the temples. Small frames are 130 millimeters wide or less; medium frames are 134 or 135 millimeters; and large frames are 138 millimeters or more.
Ideally, the width of your frames should be about the same as the width of your face. But for thick lenses, a small frame works best, as the thickness of the lens must be increased to accommodate the width of the frame. Widening the prescription leads to distortion, so the bigger the frame, the more distortion there is; the eye area may appear smaller or seem to recede. However, narrow frame shapes may be too small to accommodate heavy lenses.
Again, consider the advice of an optician.
Frame Styles
A full frame completely encircles the lenses and best supports thick lenses. Rimless or half-rim frames leave the lens thickness more noticeable, and they may not be strong enough to support heavy lenses. Frames with wide earpieces, or arms, help minimize the look of thick lenses.