ValuaVitaly/iStock/Getty Images
Skin toners are available in different formulas to accommodate different skin types. Toners are made to refresh the skin after cleansing but before moisturizing. Their gentle ingredients are formulated to help hydrate dry skin, maintain dryness for an oily complexion, reduce acne and maintain balance for normal skin. Drugstores carry a wide variety of skin care lines and toners in an assortment of prices; there is a toner for every skin type and every budget.
Olay Refreshing Toner
Ingram Publishing/Ingram Publishing/Getty Images
An Olay refreshing toner creates the perfect balance of cleansing skin without over-drying it because of the witch hazel and aloe in the toner formula. Olay Refreshing Toner is fairly inexpensive with a price around $5. Because of the low alcohol content, this mild formula allows users of all skin types — dry, oily and normal — to add this into their daily skin care routine.
L'Oreal Hydrafresh Toner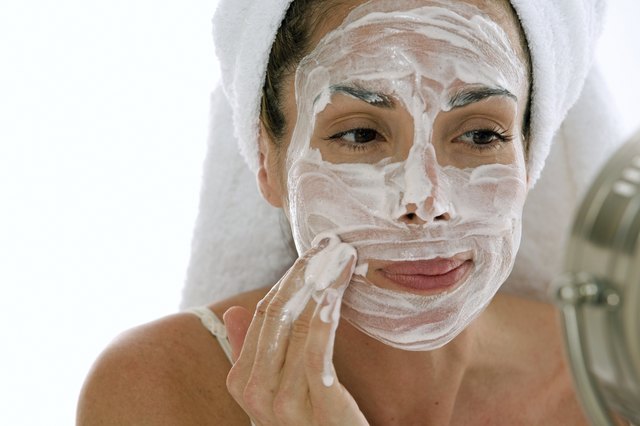 Purestock/Purestock/Getty Images
L'Oreal Paris, known for its up-to-date skin care lines, offers a basic toner that works well with every skin type. The L'Oreal Hydrafresh Toner offers a low alcohol content at 1 percent to prevent your skin from drying out after use. Beta hydroxy acid and pro-vitamin B5 not only remove dirt and dead skin cells, but they also retain the natural moisture of your skin. Use this toner in the morning and at night to see smoother and softer skin. L'Oreal Hydrafresh Toner is another inexpensive choice at $6.50 retail with various coupons offered on occasion.
Neutrogena Pore Refining Toner
Wavebreakmedia Ltd/Wavebreak Media/Getty Images
Neutrogena composed an oil-free toner designed to reduce the appearance of large and small pores. Intended for acne-prone skin, this alpha and beta hydroxy formula is used to rid your skin of dead and dull cells that cause acne. Using the toner on a daily basis will smooth out rough patches of skin while creating a brighter complexion. The retail value of Neutrogena Pore Refining Toner is $7.
Burt's Bees Rosewater and Glycerin Toner
Purestock/Purestock/Getty Images
Burt's Bees Rosewater and Glycerin Toner contain almost 100 percent natural ingredients for dry and sensitive skin. Because of the natural ingredients, your skin will be left feeling smooth and moisturized. Rosewater provides a mild astringent but will sooth dry skin, and aloe vera and glycerin will remove dead skin cells, leaving a brighter and clearer complexion. This toner retails for around $12.