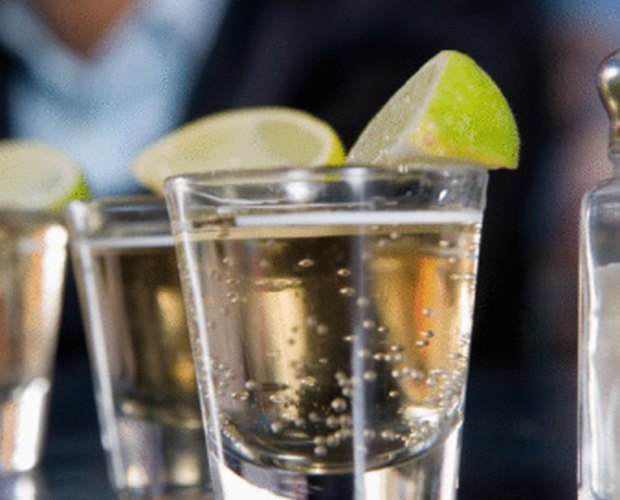 Jupiterimages/Photos.com/Getty Images
Tequila Rose is a liqueur made from tequila and strawberry liqueur. While used primarily in shooters -- drinks made in a shot glass and consumed very quickly -- many cocktails, and hot and frozen drinks, can be made from Tequila Rose as well. According to the Tequila Rose website, this liqueur is 15 percent alcohol and is produced by the McCormick Distilling Company in Missouri.
Silk Rose
Pour 1 oz. of Tequila Rose into a shaker full of ice and add 1/2 oz. of banana schnapps, 1/2 oz. of milk, 1/4 oz. of half-and-half and 1/2 oz. of butterscotch schnapps. Mix together well in the shaker and strain into a small martini glass.
Pink Russian
This drink is a strawberry variation of the White Russian. Combine 1 oz. of Tequila Rose, 1 oz. of coffee and 1/2 oz. of vodka in a highball glass along with some ice cubes. Add cream or milk until the drink is full and stir prior to serving.
Strawberry Martini
A Strawberry Martini is very simple to make. Add 2 1/2 oz. of Tequila Rose and 1 oz. of your preferred brand of vodka into a shaker. Shake well and pour the mixture into a martini glass. Add a garnish, such as a slice of strawberry, if desired.
Strawberry Truffle
A Strawberry Truffle is the perfect drink for outdoor parties in the summer. Add 1 1/2 oz. of Tequila Rose, 1 cup of vanilla ice cream, 1 oz. of half-and-half, 1 oz. of chocolate syrup and 1/2 cup of crushed ice to a blender. Blend until the mixture is smooth and serve in a tall glass.
Hot Apple Rose
Make a round of Hot Apple Roses on a cold winter night. Put 1 oz. of Tequila Rose in a mug and fill the mug up with hot apple cider. Garnish the drinks with healthy dollops of whipped cream. You can also add Tequila Rose to hot chocolate, to create a Hot Pink, or to coffee.
Shooters
Shooters are drinks made in shot glasses that are meant to be consumed quickly in one gulp. To make a Beauty and the Beast, combine 1 oz. of Jagermeister -- a German liqueur made from herbs, with 1 oz. of Tequila Rose and drink immediately. For a Black Rose, combine 1/2 oz. of blackberry brandy with 3/4 oz. of Tequila Rose. Pour into a shot glass and drink it down.