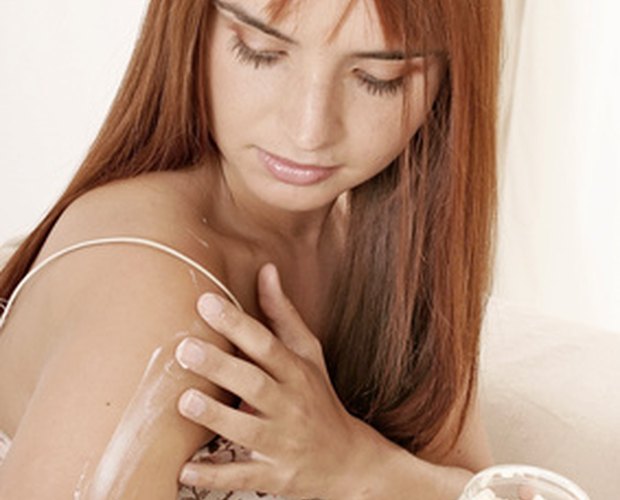 woman putting some cream image by forca from Fotolia.com
Although many people enjoy the look of a tan, the reality is that the sun can do a lot of damage to your skin while it is giving you that summer glow. Over time, tanning can cause sunspots, darkening, wrinkles, and in the very worst cases, skin cancer. While wearing sunscreen can prevent a lot of this damage, a skin bleaching cream can help restore skin after the fact.
Meladerm Cream
Meladerm is the top-rated consumer pick for skin bleaching creams on the website, Skin Whitening. The site claims the cream contains no harmful chemicals or ingredients, so it can be used for long periods of time with no ill effects, and it leaves no sticky residue. It claims to eliminate a wide range of imperfections, such as age spots, freckles, acne marks, scars and liver spots, and results are usually seen within two to four weeks.
SkinBright Skin Brightener
Skin Brightener bleaches skin, enhancing the overall appearance and creating a natural glow. It uses lemon extract as a natural exfoliant allowing healthy skin cells to surface. SkinBright claims to reduce the appearance of age spots, skin discoloration and sun spots.
Revitol Skin Brightener Cream
Revitol touts the use of all-natural, plant-based ingredients in its skin brightening cream, which works by healing damaged skin. The formula contains antioxidants that combat the damage and clear it away. This bleaches skin so it looks better in the present, and supposedly prevents wrinkles and fine lines from appearing in the future. The makers of Revitrol say the ingredients give skin the strength and resilience to stay firm.
Sampar Spot Lightener
Sampar Spot Lightener is a good choice for treating small areas because of its thin, stick form. This little stick allows you to bleach a specific area, rather than rub a cream all over a larger area. Sampar is recommended for skin with dark spots and is specifically targeted for use on the hands, face and neck.
Clinician's Complex
The Clinician's Complex 6% Skin Bleaching Cream claims to work on sun spots, age spots, freckles, pigmented scars and melasma, and although it is strong enough to be effective, it is also gentle enough not to dry out or damage skin. Apply this cream twice a day and, while result time varies, the effects should be seen within a few weeks with consistent use.
PCA Skin Pigment Gel
PCA Gel is formulated with hydroquinone and three types of natural, exfoliating acids that even out pigment tone and remove acne spots. It is designed for the face and should be applied twice daily. When using this product, apply sunscreen before sun exposure to prevent skin damage and prevent the sun from counteracting the active ingredients of the cream.
Dramatic Results Facial Regimen Set
The Dramatic Results skin bleaching cream is a skin care system designed to produce an even skin tone. The set contains an exfoliator, skin refinish wash, skin moisturizer, lightening gel, face mask and special sunscreen. The premise is that by using the system, you canremove sun spots, pigmentation problems and other discoloration, and can also give your skin the ability to fight off wrinkles and fine lines later. The face mask works to tone and strengthen skin, while the sunscreen protects it from further damage.
Clinician's Complex Skin Bleaching Cleanser
Unlike the other Clinician's Complex skin bleacher, this one is a bleaching cream and a cleansing product in one. It is supposed to clear away discoloration while it removes dead skin cells, revealing healthy skin underneath. With regular, consistent use, you should see results within a few weeks.
Donell Super Skin Lightening Cleanser
The Donell Cleanser is similar to the Clinician's Complex in that it works as a bleach and a cleaning agent. The cleanser is formulated with a combination of amino acids that claims to suppress melatonin to remove spots while you wash and prevent future spots. Because the cleanser focuses more specifically on preventing future problems, it works best when used with another bleaching cream for present imperfections.
Murad Age Spot and Pigment Lightening Gel
The Murad gel comes in a little squirt bottle to target specific age spots or discolorations. It is best for small, easy-to-access areas, and works best on freckles, age spots or natural skin pigmentation and claims to provide an even skin tone and overall improved brightness. Murad should only be applied once a day and should always be worn in conjunction with sunscreen.