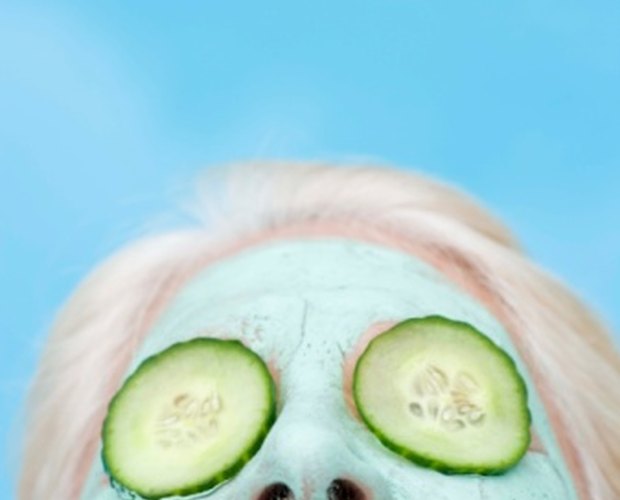 Jupiterimages/BananaStock/Getty Images
If you want to pamper your skin, an at-home facial is a spa treatment that works wonders to keep your face in tip-top shape. While some procedures like dermabrasion and chemical peels are best left to the dermatologist, you can achieve complexion perfection with a low-cost skin facial treatment. Using expert tips and beauty secrets, you can apply a skin soothing treatment in the comfort of your home.
Move your hair away from your face with a headband, or wrap your hair with a large towel. Wet your face with a dampened small towel dipped in warm water to remove makeup. Gently blot your face with a large towel.
Bring a small pot of water to boil. Pour the hot water in a large basin. Sitting at least 12 to 18 inches away from the bowl, place your face over the bowl to steam. Close your eyes and steam for 5 to 10 minutes maximum. Pat face with a warm, wet towel or cloth.
Place a quarter-sized amount of a gentle facial scrub in your palm. Rub your hands together to warm the product.
Apply the scrub to your face using your fingertips. Starting at the forehead, smooth the scrub into your temples using a small circular motion for 30 to 40 seconds. Spread the product to the rest of your face, including your cheeks, underneath the eyes, and on your chin and neck.
Wet another washcloth with water. Exfoliate your skin by moving the cloth around your face in a circular motion to remove dead skin cells and stimulate circulation. Remove the scrub granules off your face with a clean facial tissue. Rinse the skin with warm water.
Lightly pat a mask onto your face. Avoiding the eye area. Leave the mask on for no more than five minutes. Rinse your face with warm water to remove the mask.
Apply small dots of the moisturizer to your temples, cheeks, chin and nose using your fingertips.