Chestnuts roasting on an open fire … more like the party hostess covered in flour and crying—from slicing tons of onions and the stress of cooking a feast that's happening in T minus 15 minutes. Entertainers gotta impress, but a lot of times that means taking on elaborate, fanciful recipes that get you in over your head. Also, making sure all your friends with special diets can eat, too, is a lot on you. A word of advice: keeping things simple doesn't mean compromising your loftiest holiday party ambitions. Here's a show-stopping recipe for a vegan-friendly pesto pasta literally everyone will love as a side dish or main. It's so rich and basil-y and so dynamic in flavor that no one will be able to deny its perfection. The best part: it takes 15 minutes or less to make and it's so so easy. If you can boil water and press a button, you can make this.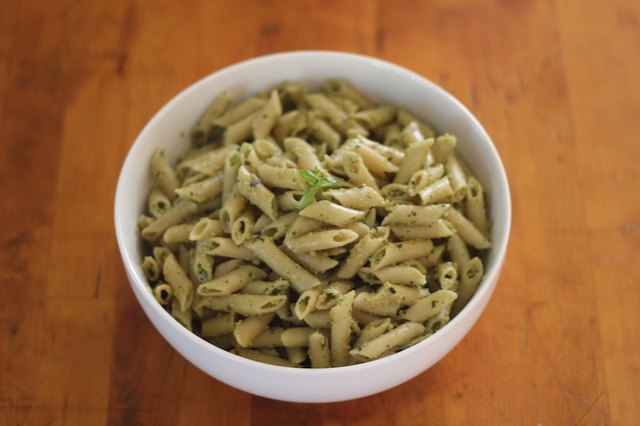 Our go-to pasta for this is classic penne because we love the way the creamy pesto gets trapped in the hollow centers. (For your gluten-free pals, any brown rice pasta or quinoa pasta works.) Um, mac and cheese who?
Vegan Pesto Pasta
Yield: 4 to 6 servings
Ingredients:
16 ounces penne ⅔ cup toasted cashews, plus ¼ cup 1 tablespoon sea salt 1 ripe avocado ⅓ cup basil 1 to 2 garlic cloves ⅓ cup lemon juice 5 ½ tablespoons olive oil 4 tablespoons water
Instructions:
Bring a large pot of water with a pinch of salt to a boil. Cook pasta al dente per instructions on the package.
In a food processor (or blender), add cashews and sea salt and grind to a fine powder. Set aside ¼ cup for serving.
Add avocado, basil, garlic, lemon juice, olive oil, and water to food processor with the cashews and process until smooth and creamy.
Turn off the stove burner. Set aside ¼ cup of the water the pasta is cooked in, then drain the pasta. Return the pasta to the large pot. Drizzle in a bit of olive oil and gently mix to keep pasta from sticking together.
Add the pesto and gently fold it into the pasta until thoroughly combined. If desired, mix in up to ¼ cup of the pasta water for a saucier consistency.
Transfer to a serving bowl and sprinkle the rest of the ground cashews on top. Done and done.
Share this recipe with your friends and tag us in your final creations! @LEAFtv