Women have been known to tolerate a lot through the ages for the sake of beauty. But even binding corsets and sky-high-heels haven't carried the sorts of risks that are bottled up and sold to us over the counter at the corner drugstore or nearby cosmetic counter. At some point, we all wind up with a makeup product that simply doesn't agree with us, thanks to the chemicals hiding inside. Irritated eyes, oily skin and clogged pores can often be attributed to makeup. Worse effects like rashes and breakouts may also stem from the products we use. How to deal? Get informed and take a stand.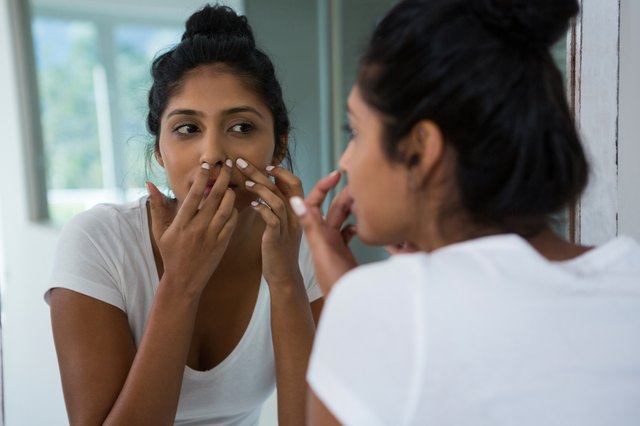 Understand the Effects
To get ahead of the side effects makeup can present, consumers should be in tune with their body by paying attention to what they use and how they feel. Products may cause swelling, redness, itching, burning, small hives or even tearing and discharge if the product comes into contact with the eye. If adding new products to the daily regimen, test the cosmetic on a small patch of skin on the back of the hand, which is similar to facial skin. Be aware of any negative effects to the area in which the new product was applied. If a negative side effect pops up, gently remove the makeup to prevent worsening the irritated skin, or carefully flush the eyes with water. While these irritating effects may be annoying, many of the chemicals that lurk inside makeup can be much more harmful with extended use.
Avoid Chemicals in Makeup
According to Reuters, the number of reported incidents of adverse effects from makeup products climbed from the annual average by 78 percent in 2015 and more than 300 percent in 2016. In order to change the cycle of the side effects of makeup, shoppers should read labels, understand what they're purchasing and stick to companies with longevity and a positive reputation. Many cosmetics have some amount of chemicals and compounds that are believed to be carcinogens. For example, siloxanes, benzophenone and petrolatum are banned by the European Union, which uses a precautionary principle that requires a product be proven harmless before it can enter the market. Other chemicals to avoid include parabens, parfum or DEP, triclosan and homosalate, which all disrupt hormone production and function. Some cosmetics use preservatives that release formaldehyde, namely sodium hydroxymethylglycinate, methenamine, diazolidinyl urea, DMDM hydantoin and quarternium-15.
Choose Clean Alternatives
The best way to deal with side effects from makeup and detrimental chemicals hiding in many products is simply to avoid using the products in the first place. Reading labels isn't enough since companies aren't required to list 11 percent of the ingredients. Roughly 75 percent of cosmetics, for example, include parabens without listing it on the label. Opt for brands and products that advertise themselves to be paraben-free, organic or all-natural and look for the vegan stamp or bunny symbol, both of which indicate no animal-testing. Big brands like Urban Decay, Aveda, Too Faced, e.l.f., Tom's and Kat Von D are all vegan and do not use animal testing. Brands like 100% Pure, John Masters, RMS Beauty and Vapour Beauty use all-natural, plant-based ingredients for peace of mind and safe beauty.