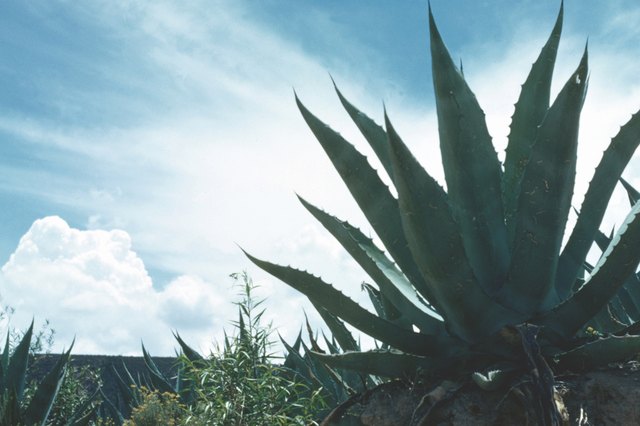 Jupiterimages/Photos.com/Getty Images
Blue Agave Nectar is a popular alternative sweetener, taken from the tall Mexican agave plant. Although it tastes similar to and has the same caloric density as honey, agave nectar has a lower Glycemic Index, meaning that it causes less of a blood sugar spike. These can cause positive side effects, such as more stable blood sugar levels. But at the same time, agave nectar has been shown to lead to high blood sugar as well as the negative effects associated with refined fructose.
Positive Side Effects
Blue agave nectar, according to BlueAgaveNectar.com, has a Glycemic Index of only 27, making it much lower than traditional sugar. When in its pure form, agave nectar can cause several positive side effects if used in place of sugar. According to Battleforhealth.com, agave nectar also has minerals absent in refined sugar. Some side effects include more stable blood sugar levels; less cravings for sugar (which has been shown to have addictive qualities); less chance of tooth decay; and the benefits of calcium, magnesium, potassium, and iron.
Negative Side Effects of Low-Quality Agave
According to investigative reporter Ramiel Nagel in his article "Agave Nectar, The High Fructose Health Food Fraud," much of the agave nectar on the market is low-quality because the refined fructose added as a cheap filler. Refined fructose is a man-made form of concentrated fruit sugar. According to Jack Challem, the Nutrition Reporter, refined fructose has a number of bad side effects. The most common side effects are increased chance of heart disease, increased cholesterol, increased triglycerides, increased chance of blood clots, and a tendency towards weight gain.
Negative Side Effects of Normal Agave
While poor-quality blue agave nectar has the worst side effects, even high-quality agave nectar can have negative side effects. While it is low enough on the Glycemic Index than regular sugar, high amounts will still affect a diabetic or who is very sensitive to blood sugar fluctuations. According to Dr. Steven Edelman from the University of California, San Diego, long-term side effects of high blood sugar levels include kidney, vision, and nerve damage; pregnancy complications or erectile dysfunction; and an increased risk of heart disease and high cholesterol. In the short-term, high blood sugar can cause excessive urination, dehydration, blurred vision and weakness.