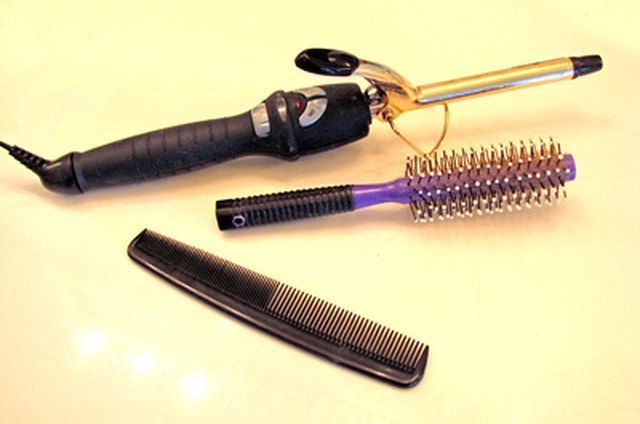 According to CCMR, a hair relaxer is a chemical solution used for loosening the curl pattern of tightly curl hair. Relaxers straighten the hair by using sodium hydroxide to break down the protein structure of the hair follicle. People are born with straight hair, wavy hair or naturally curly hair. The texture of black hair has a tight curl pattern. Black women can choose to wear natural hair or straighten the hair with a relaxer. Black hair requires a lot of maintenance whether the hair is natural or straight. Black women can apply a relaxer at home or see a licensed hair stylist.
Pros of Relaxing Black Hair
According to Skin Biology, a relaxer gives more options for hair styles. Relaxing black hair will allow better manageability when styling the hair. For instance, a relaxer works by relaxing the curl pattern to make the hair easier to detangle and straighter. Straightening black hair allows flexibility with hair styles in any type of climate. Straight and sleek hair styles are hard to maintain for hair with a tight curl pattern. Some black women enjoy the look of bone-straight hair without the constant use of styling tools.
Cons of Relaxing Black Hair
Overall maintenance of a relaxer is costly and requires a lot of grooming of the hair. A relaxer requires a touch-up to the new growth every six weeks to three months. Allowing a hair stylist to relax the hair is costly depending on the number of salon visits for a relaxer. According to CCMR, a relaxer is capable of damaging hair and burning the skin. A professional should apply the chemical to prevent any damage to the hair or body. Relaxers change the chemical break down and the pH balance of hair which leads to weakening hair strand. Improperly applying the chemical can irritate and damage the hair. Maintaining relaxed black hair requires deep conditioning weekly and moisturizing on a daily basis. If not, the hair will develop excessive dryness and experience hair breakage.
Alternatives to Relaxing Black Hair
There are alternatives to obtaining straight hair without using harsh chemicals. Alternatives are straightening the hair using a flat iron, roller sets, hot comb or blow dryer. These methods are not permanent but will satisfy the need for a temporary straight look. According to Skin Biology, using straightening tools may cause damage to the hair. Learning how to style naturally curly hair will cause less damage to the hair and styling will not involve heat. Using heat within moderation or special occasions may protect hair from becoming dry and breaking.
References