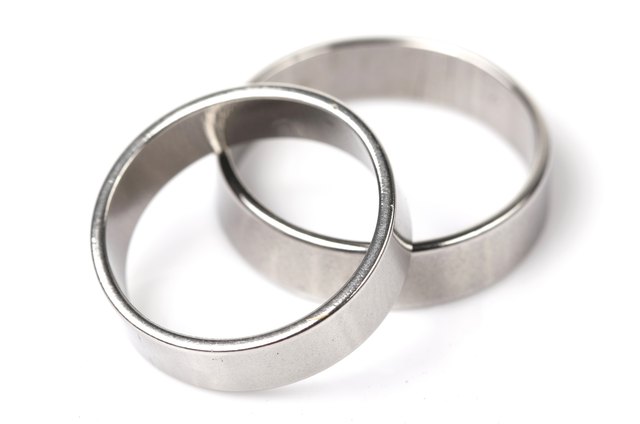 Jiradelta/iStock/Getty Images
Stainless steel is a well-known material used to make everything from cooking utensils to car parts. An alloy that mixes elements like chromium, titanium, and nickel, its silvery finish also makes it a popular commodity in jewelry design. Stainless steel not only mimics the look of fine, precious metal, but baubles made of this material are much more affordable. When it comes to rings, those made of stainless steel are a smart choice for everyday wear since they will be durable and strong. However, there are pros and cons to be considered before slipping that new ring onto your finger.
Advantages
Stainless steel is a highly durable metal, allowing it to withstand the wear and tear of everyday activities, which can otherwise damage a ring. The hard metal resists scratches and and corrosion thanks to an invisible layer of chromium that prevents oxidation. Because it is not a precious metal such as gold, silver or bronze, it's affordable, making stainless steel pieces quite budget friendly.
Drawbacks
Despite its durability, stainless steel rings can dent. Compared with precious metals, only silver dents more than stainless steel. Sizing a stainless ring can be difficult because the metal is hard, rigid and stiff. This rigidity also makes it challenging for jewelers to set gemstones. Additionally, stainless steel often includes nickel, which can be problematic if you have a nickel allergy.