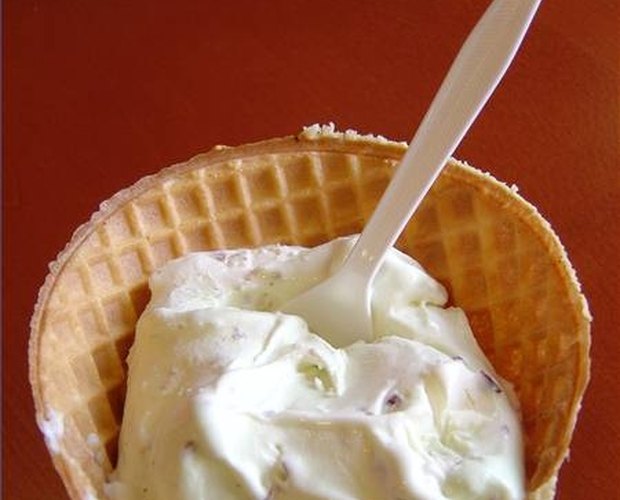 Assembling the Custard Base
Frozen custard differs from ice cream in that the base contains eggs and is cooked and cooled before freezing. A typical custard contains a combination of eggs, sugar, milk, cream, salt and flavorings. Though any frozen custard recipe can be used with this process, here's a basic recipe: Whip four eggs until completely broken up and butter-colored. Add 1 1/3 cups of milk, 1/2 cup sugar and about 2 tbsp. of honey. Cook over very low heat, stirring constantly with a whisk, for about 5 minutes or until the mixture is thick. Do not allow the eggs to curdle. Chill in the fridge, then add a pinch of salt, 1 1/3 cups of whipping cream and any flavorings (such as vanilla extract or chocolate syrup).
Blending the Custard
Beat the custard mixture with an electric mixer once all the ingredients are added. This introduces air into the mixture and blends up any chunky ingredients, such as fruit. Blend it for about 2 to 3 minutes, or until it starts to look frothy. Then, pour the mixture into a freezer-safe container with a lid. Cover the custard.
Freezing the Custard
Slide the covered custard into the freezer and check it about every 15 minutes. When a layer of crystals begins to form on the top of the custard and the mixture becomes slushy, pull it out of the freezer and beat it with the electric mixer. Put in back in the freezer and repeat again when the ice crystals reform. Then, allow the custard to freeze to a slushy semi-solid.
Finishing the Custard
Pull the semi-frozen custard out of the freezer and beat it with the mixer until fluffy. If the custard seems flat or heavy, beat one or two egg whites with a whisk until they form soft peaks and gently fold them into the custard with a wooden spoon. Freeze the custard fully, then scoop and serve.