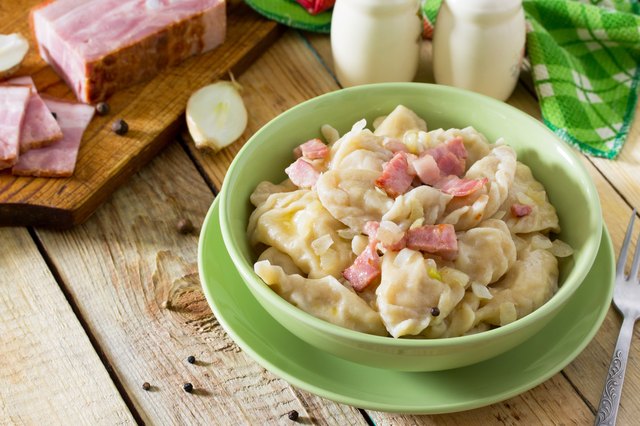 Haluski is a delicious cabbage and noodles dish regularly consumed in Pittsburgh, and is Polish-Slovakian in origin. This dish is labeled as comfort food because of its high-fat content and hearty noodles. Usually, cabbage and noodles is an unimaginable combination, to eat Haluski is to really appreciate this dish of Eastern European origin.
How Is Haluski Made?
In traditional cooking, Haluski is made with cabbage, onion, bacon, bacon fat, and flat handmade noodles. The cabbage is fried with onions, bacon and bacon fat until it caramelizes. Then, it is mixed with noodles. If the dish appears dry, butter can be added to moisten it. Season with salt, pepper and garlic powder. Given the unhealthy nature of the fat and butter, many people prefer to use olive oil instead.
Serving Haluski
Usually Haluski is served as a side dish. However, you can make it a whole meal by adding carrots and peas or other vegetable combinations. This can be consumed with bread and garden fresh salad. Alternatively, to make this into a whole meal, substitute potato dumplings instead of the noodles. Some people also use readymade egg noodles instead of handmade noodles to save themselves the additional work. When Haluski is a side dish, you can serve it with a variety of main dishes.
Haluski with City Chicken or Potatoes
Many people love to consume this delicious Polish dish with City Chicken, which is not chicken at all. It is flour-coated fried veal or pork. Sometimes beef is used. If you do not want more meat in your meal, serve the dish with potatoes that are first boiled, then baked in the oven.
Haluski with Spaetzle
Instead of serving this dish with handmade noodles, dumplings or egg noodles, try serving Haluski with spaetzle. The spaetzle soaks up the flavors and the dish does not turn out too floury or doughy. Add caraway seeds to the spaetzle dough to give the dish an enhanced flavor.
Vegetarian Haluski
This dish can be turned into a vegan one by omitting the bacon and bacon fat. Instead, olive oil can be used. Add carrots and peas along with vegetarian sausage to give a unique, but delicious taste to the Haluski. You can even use cottage cheese to enhance the taste. Serve Vegetarian Haluski with potato noodles. If you do not want to use fresh cabbage, then substitute sauerkraut.
Haluski with Keilbasa
Instead of the bacon, you can use Keilbasa or smoked sausage. Ensure that you simmer all the ingredients together for about 30 minutes to blend all the flavors.