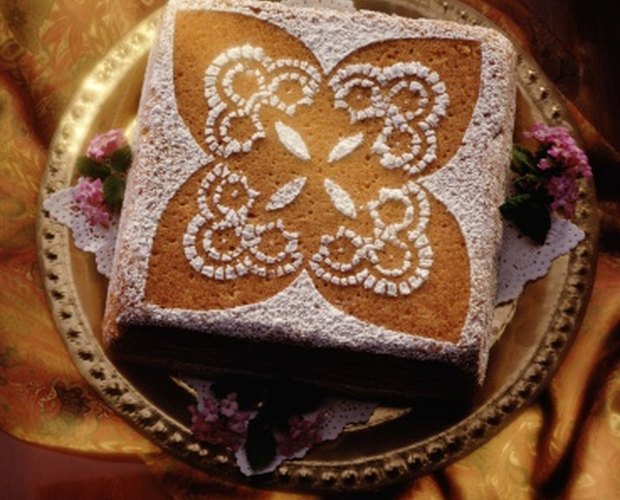 Jupiterimages/Comstock/Getty Images
Sponge cake, as its name suggests, has a light, sponge-like texture with an extremely moist and tender crumb. While whipped cream makes a nice addition to decorate a sponge cake, other frostings and embellishment can put your cake over top without the use of cream. With a simple addition of sliced fruit to a luxurious chocolate frosting, take your sponge cake to the next level to make your taste buds dance with happiness.
Sugar and Fruit
Top your sponge cake with a light and low-calorie topping with fresh fruit and confectioner's sugar. Thinly slice a handful of strawberries and a peach. Arrange the fruit on top of the cake overlapping a sliced strawberry with a sliced peach in the center of the cake. Create a circular pattern in the center of the cake with the fruit. Put a 1/2 cup of confectioner's sugar in a fine sieve and shake it over the surface of the cake. Cover the cake and fruit with a layer of the dusted sugar.
Chocolate Frosting
Tort a sponge cake in half with a wire cake leveler. Scoop 1/2 cup of chocolate royal icing on top of one layer of the cake. Spread the icing around the surface of the cake with an icing knife. Place the second layer on top of the first and scoop 3/4 cup of icing on the top layer. Spread the icing around again, adding more icing as needed. Make S-shaped strokes with the knife on the surface of the icing to create a wavy pattern over your cake. Allow the cake to chill for 30 minutes before serving.
Buttercream Frosting
Buttercream frosting traditionally consists of butter, powdered sugar and heavy cream, but you can substitute the cream with a liquor, water or milk to avoid any cream in your frosting. Make your buttercream by combining 4 cups of sifted powdered sugar, 1 cup of butter and 10 tsp. of liquid. Blend it together at a high speed with a mixer until it reaches a smooth, creamy consistency. Stabilize the icing by add 1 tbsp. of meringue powder to the mixture. Blend again until smooth. Spread a thick layer of the icing over the sponge cake and chill it for one hour to form a thin crust on the surface of the icing.
Glaze
Turn a jar of your favorite seedless preserves into a sweet glaze to delicately cover your sponge cake. Melt 4 tbsp. of preserves in a saucepan with 1 tbsp. of honey or corn syrup over low heat. Add 1/2 cup of water to the mixture and stir to combine. Let the glaze cool slightly and then carefully pour it over the the cake. Begin pouring at the center of the cake and allow the glaze to spill down the sides of the sponge cake. Let the glaze set by chilling it for 30 minutes before serving.