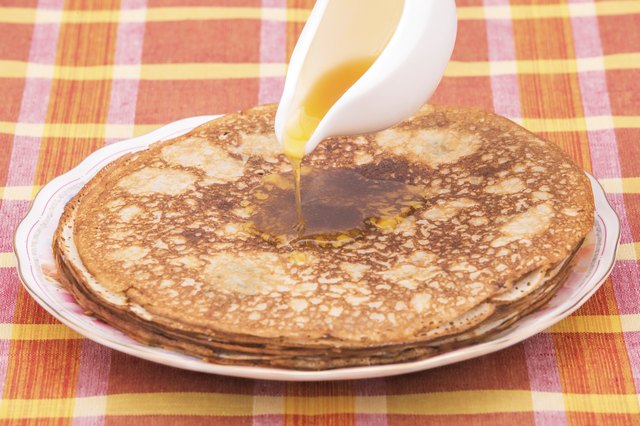 ezumer/iStock/Getty Images
Gathering after a service for coffee and refreshments is a given at many churches. It's a time for congregants to enjoy additional fellowship time, meet people and chat with the ministers. Because the same old coffee and doughnuts every week can get old quickly, plan a brunch spread, a church-wide potluck or a make-your-own taco bar.
Traditional Treats With a Twist
Stick to serving baked goods, but change up your offerings with a greater variety. Instead of doughnuts, serve bagels and cream cheese or fresh-baked muffins. Ask the foodies in the congregation to bake a favorite savory bread or coffeecakes to share. Or organize a church youth group bake sale to benefit a charity. Folks can enjoy a variety of baked goodies with their coffee and contribute to a good cause at the same time.
Pancake Breakfast
Instead of watching folks take off for brunch after church, encourage them to "eat in" with an occasional pancake breakfast or brunch. Assign prep tasks to church groups. For example, one group can make large batches of pancakes the day before or that morning, either in the church kitchen or in their own homes. Another group may prepare breakfast casseroles or covered egg dishes. Still others can bring fresh fruit, bacon or sausage, and toppings for the pancakes. Get the kids involved by asking them to pass out napkins or cups for juice and milk, and the youth group can help with setup and cleanup.
Potluck Feast Revisited
Once a quarter or so, bring the congregation together with an after-church potluck. Host an International feast by asking members to bring a dish representative of their culture or national heritage. Or challenge members' knowledge of foods in the Bible by requesting potluck dishes that feature a food or ingredient mentioned in the Bible.
Help-Yourself Spreads
Set up a "serve yourself" taco and potato bar. Set out taco shells, tortillas and baked potatoes with all the fixings, such as seasoned meat, shredded cheeses, chopped veggies, butter, sour cream, bacon and salsa. During cold weather months, set up a soup bar. Ask congregants to bring slow-cookers filled with a favorite hearty soup or chili. Or challenge folks to a chili cook-off. Church newcomers can serve as judges, and participants can enjoy a hearty after-church lunch.