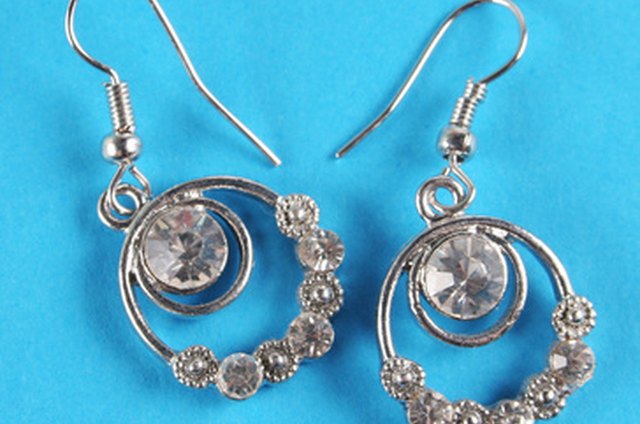 earrings image by Gina Smith from <a href='http://www.fotolia.com'>Fotolia.com</a>
An attractive pair of earrings complements any ensemble. However, the heavier the earring, the higher the risk that the earring will tug your earlobe down in a painful or unflattering fashion. Over time, heavy pierced earrings can stretch your ear out, making it impossible to wear earrings at all. With proper care and foresight, though, anyone can wear large earrings to make a fashion statement all their own.
Pierce your ears and leave them pierced with starter studs for the first six months. Heed your piercer's advice with regards to aftercare. Newly-pierced ears cannot under any circumstances handle heavy earrings. Wear your starter stud earrings until your ears have healed completely.
Replace your existing earrings with heavy earrings and secure them with large plastic earring backs. These earring backs are typically not provided with heavy earrings at the time of purchase, but are available from many jewelry stores and drugstores. Large plastic earring backs spread out the weight of the earring across your ear and prevent the earring from pointing downwards or unnecessarily stretching out your ear.
Avoid wearing heavy earrings every day. Although this may seem counterintuitive, to wear heavy earrings comfortably you must avoid wearing them at all times. Wearing heavy earrings too often stretches out the ear lobes, making you unable to wear earrings at all unless you have costly cosmetic surgery. A helpful rule of thumb is to wear heavy earrings for about six hours every now and then. Take heavy earrings off when you get home to avoid losing them or accidentally catching them on something during the night.
Tip
A heavy earring is any earring that you can consciously feel pulling down on your ear. This weight will be different from person to person, but be honest with yourself about how heavy the jewelry feels.