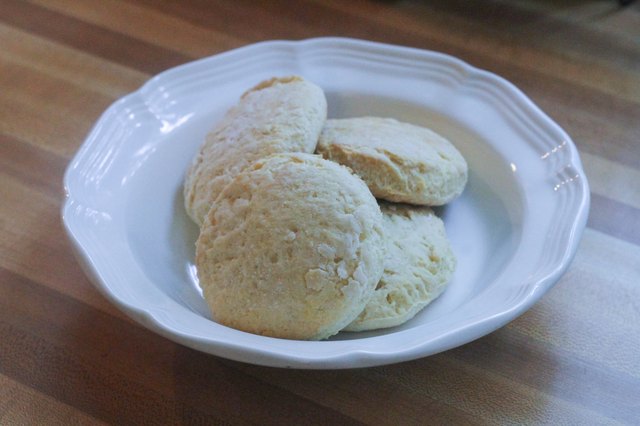 Sarah Vantassel/Demand Media
Nothing beats the smell of freshly-baked biscuits. But making this fluffy, flaky baked good from scratch takes quite a bit of effort as most recipes require you to sift flour, mix the wet and dry ingredients separately and knead dough. Fortunately, using store-bought pancake mix makes preparing biscuits quicker and with a less effort and ingredients.
Sarah Vantassel/Demand Media
Mix approximately 2 1/2 cups of buttermilk pancake mix with 1/3 cup of water, a 1/4 cup of melted butter and an egg. Use a hand mixer or a large spoon to stir the ingredients for a few minutes.
Sarah Vantassel/Demand Media
Roll out the dough. The mixture should be thick enough to easily handle. Sprinkle a tablespoon of flour onto your countertop or a large cutting board. Form a ball with the dough and place it on your surface. Use a rolling pin to form a large, 1/2-inch thick square of dough.
Sarah Vantassel/Demand Media
Use the top of a tea cup, cookie or biscuit cutter to make approximately eight circles in the dough. Pull away the excess dough and put the biscuits on a large baking sheet. Bake the biscuits for up to 10 minutes at 425 degrees Fahrenheit.
Tip
For extra flavor, you can put toppings such as cheese, honey or butter on the biscuits as soon as you remove them from the oven.