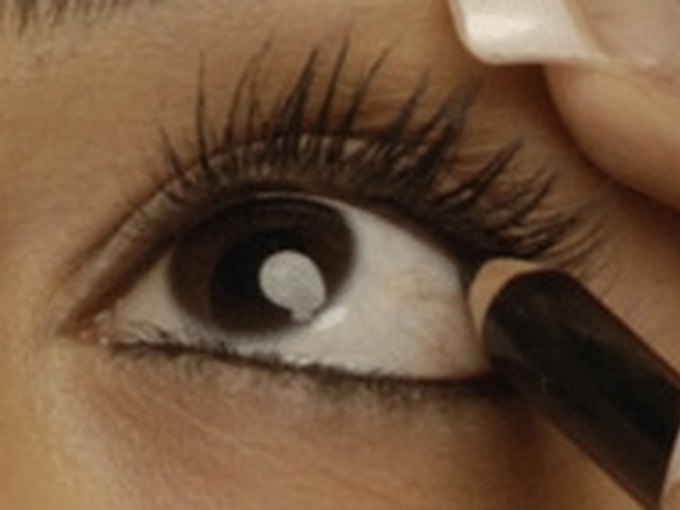 http://www.bbc.co.uk/switch/slink/images/255x143/hb/eyeliner.jpg
One way to add instant allure is to line your eyes. An eye pencil is one of the quickest ways to enhance your eyes. Eye pencils contain wax, which allows for ease in application. There are a variety of looks to achieve when using an eye pencil.
Keep your eyeliner pencil sharpened. A sharp pencil provides the most pigmentation.
Disinfect your pencil eyeliner. Lightly rub your liner with a skin-sensitive disinfectant, especially if you choose to line your inner rims.
Apply a dark pencil eyeliner to the inner rims of your eyes. In order to achieve this sultry look, many makeup artists recommend lining the inner lids with a dark liner. Find a darker eyeliner that complements your hair color and skin tone.
Apply a dark pencil close to the base of your lashes. For those who are not comfortable lining their inner rims, applying liner close to the lash line may be a better option.
Hold your skin taut. Pull the skin around the brow upward and outward. This will make it easier to achieve that smooth line.
Line your eyes starting from the outer edge and moving inward. Use 4 to 6 strokes on your lid. Step away from your mirror to see if there are any gaps or unevenness.
Get the illusion of a wider eye. Starlets such as Marilyn Monroe rimmed their inner eyelids with white or beige pencil eyeliner. The purpose is to enlarge the white of the eye, making the eyes pop.
Get the smokey-eye look. Use a smudge brush or cotton swab in order to achieve this. Rub the liner until it reaches the desired level. Eye shadows also are used to achieve this look.
Tip
If you have a wobbly hand and your line isn't smooth, clean up using a cotton swab dipped in water. Practice makes perfect, especially when developing a steady hand for applying eyeliner.
Warning
Optometrists warn not to use eyeliner in the inner rims of the eye, whereas makeup artists constantly use this tactic. Stay safe and make sure to disinfect the pencil tip before and after use. Find a disinfectant that is skin-sensitive and does not irritate the skin.