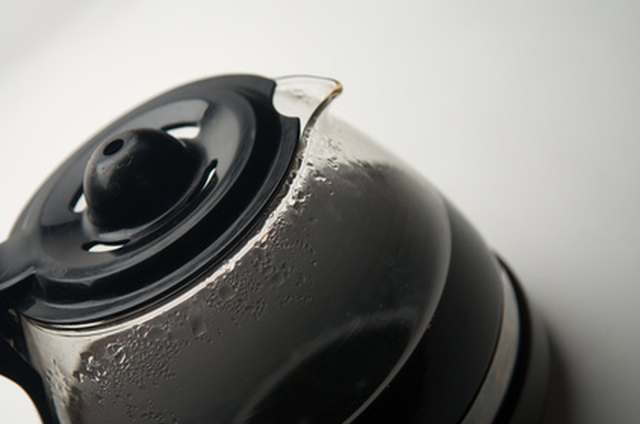 Home brew systems are popular for several reasons. You can make as much or as little coffee as you'd like, modify the strength of the coffee to your liking, and grind or brew your preferred brand of coffee. Instructions for the Farberware 12-cup coffee maker make it clear on how to brew a cup of coffee at home. With features such as a programmable timer, pause and serve, and automatic safety shutoff, the Farberware coffee maker is built for convenience.
Open the top lid of the coffee maker. Inside there is a filter basket and an opening to pour the water.
Measure the water by filling the carafe based on how many cups you'd like to brew. The carafe has markings along the side which show the cup measurements. To make the maximum 12 cups, fill the carafe to the top line marked 12.
Pour the water into the opening in the top of the coffee maker, behind the filter basket. The Farberware coffee maker is also equipped with a water level indicator window to ensure proper filling.
Place a coffee filter into the filter basket. Your coffee measurement will be based on the number of cups of water you pour into the machine. Scoop 1 tbsp. of coffee per 1 cup of water.
Close the top cover of the machine and press "Brew" on the front of the machine if you wish for brewing to start immediately. To program the built-in timer to brew at a later time, press the "Program" button and set the time you wish brewing to begin by using the "Hour" and "Minute" buttons. Be sure that your digital clock display has been set to the correct time.