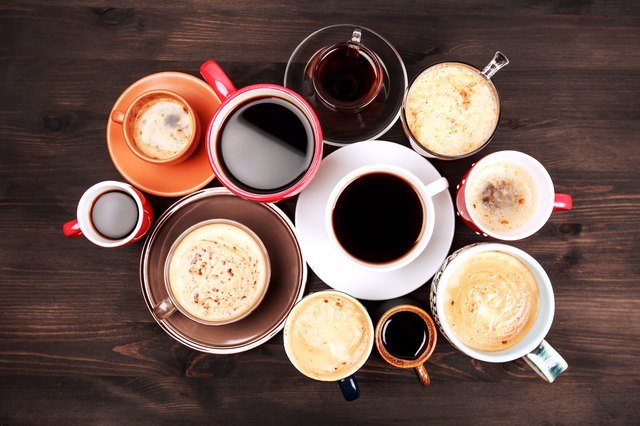 High-capacity percolators are the only way to go when when brewing coffee for a crowd. All coffee percolators work on the same principle, so there's consistency with brewing instructions among brands. You need about 3/4 cups of ground coffee for every 12 cups or regular-strength coffee, with 12 cups being the minimum amount required for the percolator to brew. Start brewing the coffee at least 1 hour before you intend to serve it.
Remove the filter basket and stem from the percolator. Fill the percolator to the 30-cup mark with cold water from a sink tap if you have access to a banquet hall sink. At home, load the percolator with a large pitcher.
Insert the wide end of the stem in the bottom of percolator. Attach the filter basket to the top of the stem. Moisten the bottom of the filter basket with water.
Add ground coffee to the filter basket. Use 1 3/4 cups for regular-strength coffee; use 2 cups for strong coffee; use 2 1/2 cups for double strength. Use regular coffeemaker coffee or grind your own beans to medium coarseness.
Place the lid on the percolator and take it to the serving table. Plug in the percolator. If the percolator has an ON switch, turn it on.
Wait 1 hour for the coffee to brew before serving. Remove the filter basket before serving the coffee to prevent bitter oils from dripping into it.
Unplug the percolator when you're finished serving. Let the percolator cool for 1 hour with the lid off before cleaning.
Tips
If you want to make more coffee, first fill the percolator halfway with cold water to reset the thermostat.

Reheat 3 or more cups of cold coffee in the percolator by turning it back on.

Coffee filters aren't required in high-capacity percolators.

These instructions produce 30 5 1/2-ounce cups of coffee.