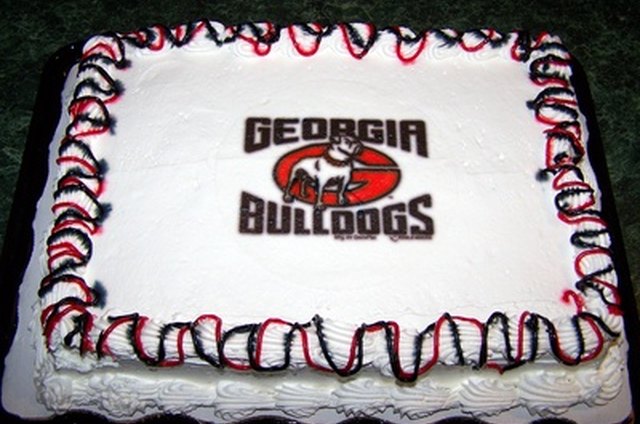 bulldog birthday cake image by tomcat2170 from Fotolia.com
Transferring a picture onto a fondant cake can make the cake match the party theme or serve as a frame for an image of the guest of honor. There are several ways to transfer a picture to a fondant cake; a frozen butter-cream transfer is one of the most common.
Print a mirror image of the picture you want to transfer onto the cake. You can set your printer to the mirror-image setting before you print.
Tape the picture to a stiff but movable surface, such as a piece of cardboard. Tape a piece of wax paper over the image.
Mix the butter cream icing and gel food colorings to create the different colors in the picture. Mix the different colors of icing in small bowls; you need as many bowls as there are colors in the picture. Put each color of icing into its own pastry bag.
Using a small, round icing tip, pipe black icing around the outline of the picture. Fill in the rest of picture with icing in the corresponding colors.
Place the second piece of wax paper over the butter cream picture and smooth slightly. This can be done with a rolling pin. Do not flatten picture.
Place picture in the freezer for 24 hours to harden icing. Remove picture from the freezer and carefully peel wax paper off of both sides of picture.
Place picture on the cake. Use tiny dots of royal icing to hold picture in place.
References