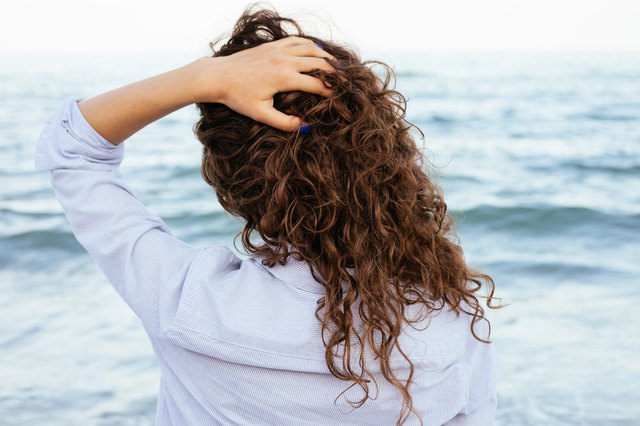 Diffusers are often lauded as the key to drying curly locks without inciting frizz. However, adding yet another gadget to your hair care arsenal could be enough to give you a headache. Luckily, with the expansive variety of products available for curly-headed beauties, you can still have silky, healthy waves without having to buy another beauty tool.
Healthy curly hair needs some deep moisturizing and controlling products, and that process starts in the shower. Opt for a moisturizing, sulfate-free shampoo and conditioner designed for curly locks. These products help release your natural curl by adding moisture without weighing down volume and shape.
Leave the conditioner in for at least five minutes before rinsing out with lukewarm water, since hot water tends to strip away the natural moisture in your hair. Towel-dry your strands with an absorbent microfiber towel and avoid rubbing or twisting your hair too harshly, which can cause unwanted frizz.
The best time to apply effective styling products is when your hair is still damp -- about 80% dry -- and hasn't set into shape for the day. Spritz your locks with a keratin spray, which adds moisture and protects damaged or dry strands. Follow up with a lightweight, flexible mousse or a curl-enhancing styling cream. Either of these products will provide a soft, lasting shape without adding a crunchy texture.
Apply a healthy palmful of your preferred product to your hair from root to tip. Avoid brushing the product in with a bristle brush or fine-toothed comb. Instead, rake it through your strands with your fingers to keep your natural volume and shape intact.
Tips
Instead of a keratin spray, consider applying a teaspoon of argan or coconut oil to your tresses for a boost of natural, smoothing moisture.
Some simple defining tricks can delete the diffuser from your beauty routine forever. If you have looser curls or waves, grab a 1-inch section of hair and twist it into a tidy minibun. Squeeze the minibun a couple of times and release gently. Repeat this process on the rest of your hair.
If you want a bit of extra punch, pin each minibun into place and blast with a regular blow dryer on medium heat and low air flow. Release each bun after they have cooled for defined structure.
Even if you don't have a diffuser handy, you can still utilize that blow dryer to enhance your natural texture. Always opt for the lowest heat and air flow options available. Heat and friction cause frizz, so a mellow flow of air simulates a diffuser without the actual device.
Pin up your damp hair with large alligator clips into five or six loose nests. Keep the dryer moving and direct the air flow away from your face to smooth small, wild baby hairs and keep your strands sleek. Release the loose nests once your hair is dry and tousle with your fingers.
The least time-consuming method for styling curly strands is sleeping on it. After applying a styling cream or mousse onto damp hair, twist locks into two or three high, tidy buns. Skip the hair ties and pin in place with a few bobby pins. Wrap a scarf around your head and leave in place for at least eight hours.
Release the buns in the morning and tousle with your fingers. Avoid brushing your strands, which diffuses the sleek curls and causes frizz. Spritz your locks with a shine-enhancing serum for a polished final look.
Tips
Opt for overnight foam rollers if you want to create tight, coiled curls that last for hours on end.