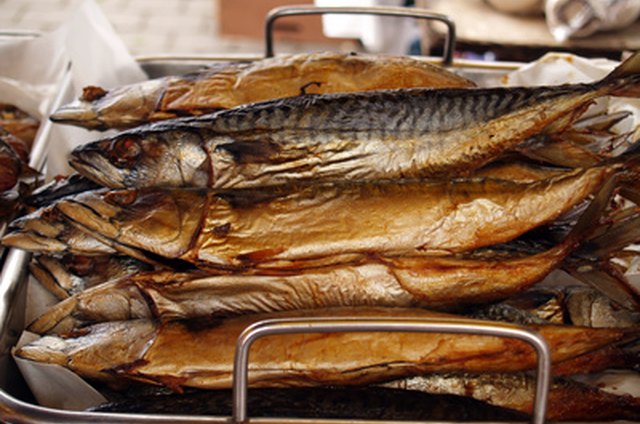 Smoking has been used for hundreds of years to preserve fish. Fishermen combined smoke and salt to prevent fish from spoiling before refrigeration became available. Today, smoked fish is enjoyed as both appetizers and main dishes for its smoky taste. Hot-smoked fish is prepared by giving the fish a blast of hot air and curing it in smoke from hot wood chips. Cold-smoked fish is salted and then cured over a wood fire. Microorganisms can survive the smoking process and are capable of causing food poisoning. To protect yourself from food-borne illness, store smoked fish properly.
Place the smoked fish on a clean plate.
Cover the smoked fish with cling wrap.
Place the covered smoked fish in the coldest area of your refrigerator. The fish will keep for three to five days.
Tip
To freeze smoked fish, place it in an airtight food storage container. It will keep up to one month.
If the smoked fish was purchased in a vacuum pack, store it in the refrigerator unopened.
Warning
Don't re-freeze smoked fish, because it will cause the fish to lose moisture, texture and flavor.