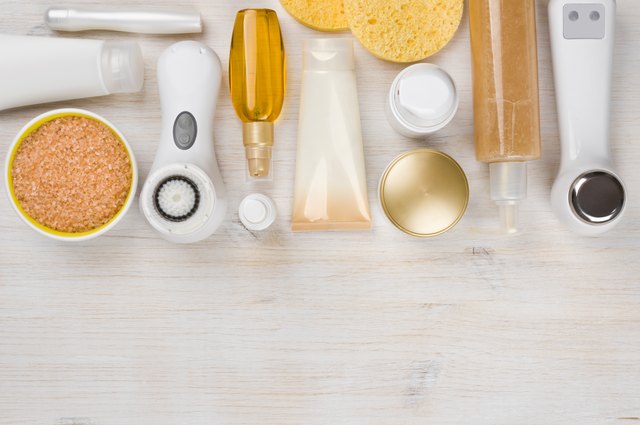 Removing makeup each night is important to keep skin clean. Even if makeup fades throughout the day, it still clogs pores, attracts dirt and causes breakouts if not completely washed off before you go to sleep. If you use water-based cosmetics and have normal skin, you could use the same gentle facial cleanser you use in your morning and evening routines to remove foundation makeup. Oil-based foundation needs to be removed with a product made specifically to remove makeup, especially if you have dry or combination skin.
Choose the makeup removal formula that works with your skin type. Those with sensitive skin should avoid products with alcohol or fragrances; dry and combination skin types should use a gel or creamy cleanser; and normal skin can use creams, gels, and liquid cleansers. Cold creams like Noxzema work well for many skin types because they remove makeup and clean the skin at the same time.
Apply the cleanser using your fingertips and rub in circular motions along the cheeks, chin, forehead, and nose. If you're wearing very thick foundation, leave it on for an extra minute to help dissolve the makeup.
Wipe away cleanser and foundation with a soft washcloth or cotton pads. Avoid using cotton around the eye area, especially if you wear contacts because fibers could get in your eyes. Wipe away gently, and don't pull on the skin.
Use cool water to rinse away any remaining traces of foundation or cleanser. Then, pat your face dry.
Next, apply a moisturizer and eye cream that are geared for your skin type. Rub moisturizer into the skin using small circular motions along the forehead, neck, and cheeks. Dab eye cream on the outside of the eye and rub in with the ring finger to avoid pulling on the delicate skin.
References