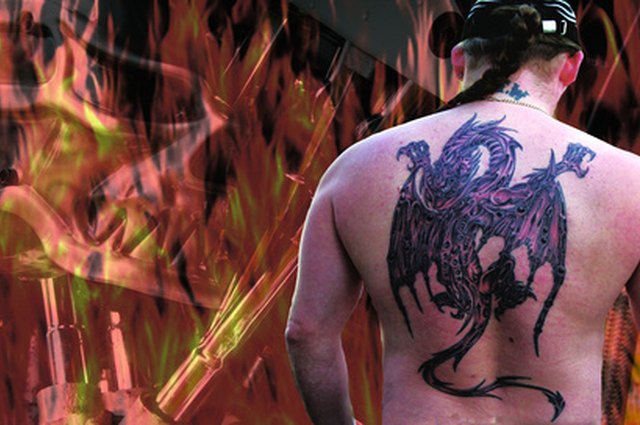 tattoo image by FXTW from <a href='http://www.fotolia.com'>Fotolia.com</a>
Acid peels are designed to remove facial skin blemishes and wrinkles through a topical application. The peels can be used to remove skin blemishes and even tattoos from other areas of the body. Tattoo removals are performed usually by a dermatologist using an expensive acid chemical peel procedure. The process can cost a few hundred dollars or more per appointment, depending on the size of the tattoo. Several applications may be necessary before the tattoo removal is complete. Some users have had success removing a tattoo by performing an acid peel at home.
Combine a half liter of water and a teaspoon of the bi-carbonate in a bowl.
Pour a small amount of the rubbing alcohol on a clean cloth and rub the area on and around the tattoo clean.
Dip the skin brush into the glycolic acid. The solution is the same chemical typically found in facial washes, only at a higher concentrate. Leave the glycolic acid on your tattoo for a few minutes. It may vary depending on the brand you are using. Follow the instructions printed on the product label. The product dries quickly due to the high concentrate of acid.
Rinse off the area with the water/bi-carbonate soda mixture. Dry off the area thoroughly once clean.
Wait a few weeks before attempting to apply another layer of the acid peel to the tattoo. Applying the product too often may result in chemical burns that are permanent.