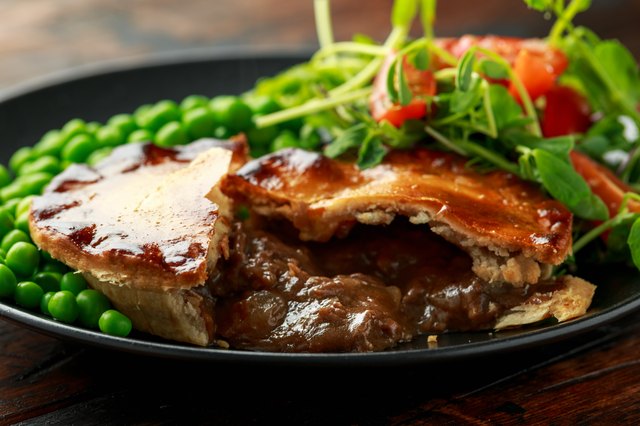 Fresh meat pies are enjoyed throughout the world as part of a hearty dinner. They come in a variety of flavors, depending on where you are and who's making it. However, preparing the pies is often time consuming and requires a fair amount of preparation. To make things a little easier, we suggest making a large batch and freezing them, or purchase pre-made frozen pies. Reheating these pies is simple and provides a large, flavorful meal with little preparation and great ease.
Move the pie from the freezer to the refrigerator and thaw for eight hours. Remove and unwrap the meat pie, discard the wrappings, before baking.
Place the pie on a baking sheet. This aids in conducting heat evenly throughout the bottom.
Preheat the oven to 400 degrees Fahrenheit.
Insert the pie in to the oven and cook for five minutes. Reduce the oven's heat to 350 degrees Fahrenheit.
Cook the meat for another 10 minutes, or until the middle is warmed.
Tip
If your oven is causing the edges of the pastry to burn, cover them with a strip of tinfoil.
Warning
Store meat pies in the freezer for only two to four months.
Do not attempt to reheat the pie in the microwave as this causes the pastry to become soggy.