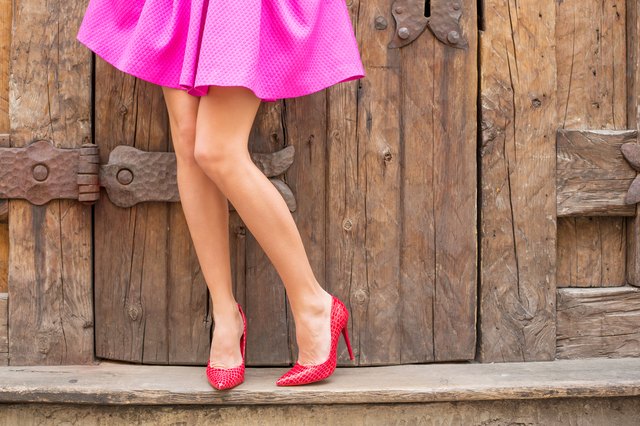 The Magic Wrap is a skirt that uses two kinds of fabrics so that it is reversible. You can also use the Magic Wrap as a dress by draping the fabric over your body and tying the wrap around one shoulder as you would a sarong. Magic Wraps come in a variety of colors and patterns, and they suit a variety of body types. When making your own Magic Wrap skirt, you can choose your fabric and pattern to suit your tastes and to accommodate the seasons.
Measure the length from your waist to your ankle and write down the measurement; this will be the width of the fabric you need.
Measure around the fullest part of your waist, taking care not to breathe in while you measure. Double this number and add 2 inches; this is the length of fabric you need to purchase.
Choose the fabrics you want to make your skirt out of. If you want to make the wrap reversible, buy two different kinds of fabric of the same length. You can choose a lighter color for spring and summer or a darker color for fall and winter.
Lay the fabric out on your workspace or on the floor so that it lays completely flat. On one end of the fabric, make a mark of the width measurement you took while measuring yourself for the skirt. At the other end, mark 14 inches in width. Draw a gradual line between the two marks; this will give the skirt a tapering appearance.
Cut the fabric along the gradual line you have drawn and along the two sides. Set this piece --- it will become the skirt piece --- aside.
Mark a section on the excess fabric that measures 2 1/2 inches by 12 inches. Fold the fabric in half and cut along the lines to create two equally sized pieces of fabric. Fold one of the pieces in half with the patterned side facing inward; iron the fabric to form a crease. Repeat this process with the second piece of fabric.
Hem three sides of the pieces of fabric using a zigzag stitch, then turn each of the pieces right-side out again. These are the skirts ties.
Lay the skirt fabric out on the floor with the longest edge at the bottom. Hem the two vertical edges of the dress, then hem along the bottom edge of the skirt. Iron the hems once you have sewn them to create a clean, professional look.
Measure 1 inch from the top of the unhemmed edge and fold the fabric down. Pin one of the ties you made to each end of the waistband, keeping it level with the top of the fold. Measure another inch of fabric on the unhemmed edge, then fold it down and hem it to seal the waistband.
Wrap the skirt around your waist, using the ties on the waistband to tie the skirt securely in place.