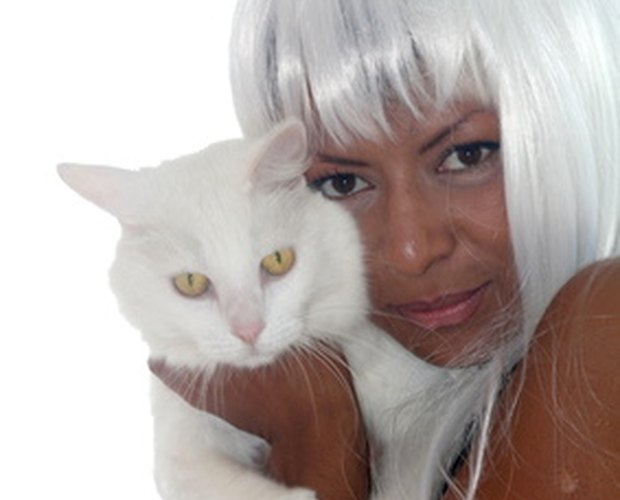 whie hair woman and white cat image by Xavier MARCHANT from Fotolia.com
Whether you are interested in whitening shampoo for yourself or for your pet, it can be very expensive to buy, and there is no way to really know what is in the formula you are buying. Whitening shampoo is used to brighten white fur or hair. It does this by removing yellow or greenish discolorations. Some whitening shampoos use bleach or a substance called "bluing." Both of these ingredients can be irritating to skin, so it is worthwhile to make your own whitening shampoo from less harmful ingredients.
Add 22 ounces of Ivory or Dove dish detergent, 2 ounces of glycerin and 2 cups of white vinegar together into a 1 gallon container. You can get glycerin at any drug or health food store.
Add enough water to the mixture to fill the 1-gallon container.
Use the wooden spoon to stir until your shampoo is thoroughly mixed.
Fill an empty shampoo bottle with your homemade whitening shampoo. Seal the 1 gallon container, and store it in a dry location until you need to refill your shampoo bottle. Use the whitening shampoo as you would any other shampoo, although you will likely not need to use it every day.
Warning
Be careful not to get shampoo into your eyes or into the eyes of your pet.
Do not allow animals to lick shampoo from their fur or from their whiskers.