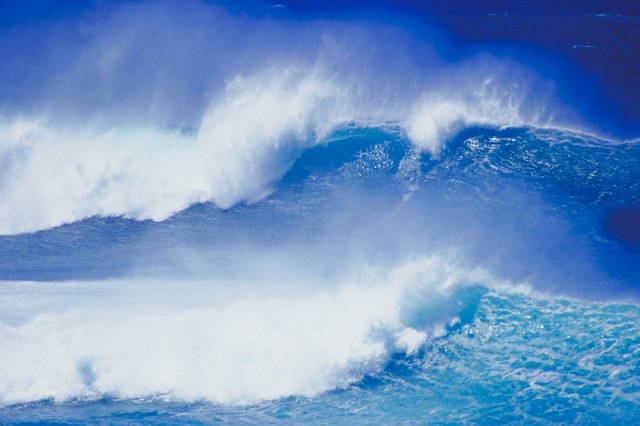 NA/AbleStock.com/Getty Images
A beach or other water-themed cake looks more realistic with waves made from icing. The entire cake can be decorated with waves, or you might dedicate a corner for water with other accents, such as crushed graham crackers to make a sandy beach. Slight peaks are possible with buttercream icing so the waves are more gently rolling, but don't expect to achieve huge waves as you can with fondant. Use a crusting buttercream frosting that hardens slightly so the waves hold their shape. Substitute at least half the butter in your buttercream frosting recipe with vegetable shortening.
Spread an even layer of white buttercream icing over the cake. The white icing doesn't need to be perfectly smooth. Cover the entire cake with white icing as a base, or simply cover the area where you want to make waves.
Mix blue gel food coloring with white icing to achieve the desired shade of blue for the water. To give the waves more depth, mix different shades of blue in separate bowls which you can layer in when making the waves.
Scoop up a bit of the blue icing on an off-set spatula. Spread it over the white icing from side to side until the entire water area is covered with blue. Press down slightly to create rows of peaks and depressions to mimic the pattern of waves. Stagger the rows slightly instead of forming perfectly straight, even rows -- waves in the ocean are never perfectly uniform. Alternate using the different shades of blue if you opted to make different blues. The blue should blend with the white icing where the two colors meet, but the blue should remain mostly on top.
Press the tip of a clean, angled spatula lightly into the peaks of the wave rows. Pull straight up on the spatula quickly to form curled peaks in the icing. Repeat this along each row to give the cake the look of repeating rows of waves, just as you would see when looking from the shore line to the horizon. Press the tip of the spatula into white frosting occasionally before making the peaks, if desired, to layer in more white that resembles the foam and whites of a wave.
Tip
While the look of waves and water is attainable with plain, tinted buttercream frosting, clear piping gel gives the icing a sheen or glisten that more closely resembles sparkling water. Frost the cake with white buttercream frosting and instead of blue buttercream, mix clear piping gel with blue food coloring gel. Apply the blue piping gel just as you would apply blue icing. An off-set spatula has a blade that is angled slightly so it's not perfectly in line with the spatula handle.