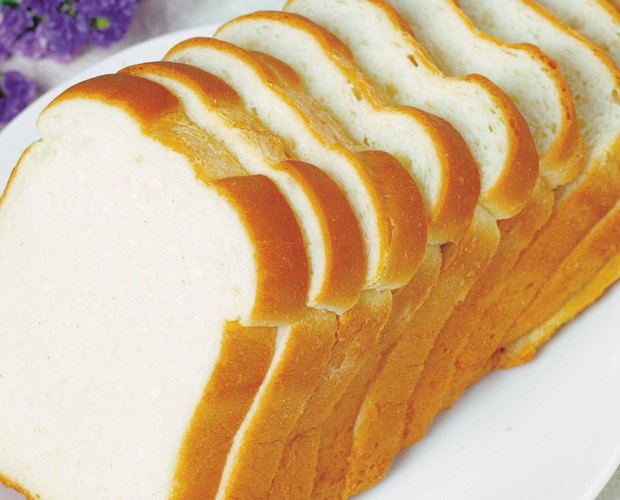 Media Bank/Photos.com/Getty Images
This simple recipe makes a sweet, soft white bread that's perfect for sandwiches and toast. The recipe calls for 6 cups of all-purpose flour. If you prefer a whole-wheat bread, use use 3 cups of whole-wheat flour and 3 cups of all-purpose flour.
In a large bowl, dissolve the sugar in the warm water. After the sugar is dissolved, stir in the yeast, and allow the mixture to "proof" until the yeast resembles a creamy foam.
Into the yeast mixture, add the salt and the oil. Gradually mix in the flour, only one cup at a time. On a lightly floured surface, knead the dough until smooth and place in a well oiled bowl, turning the dough to coat. Cover the bowl with a damp cloth and allow to rise until doubled in bulk. This usually takes about one hour.
After the dough has finished rising, knead for a few minutes, and divide in half. If you have a scale, weigh out the pieces to ensure even baking. Shape each piece of dough into a loaf shape, and place them in two well oiled, 9-by-5-inch loaf pans. Allow the dough to rise for 30 more minutes, or until dough has risen about 1 inch above the pans.
Bake the loaves at 350 degrees Fahrenheit for about 30 minutes, until golden brown on top.
Remove the loaves from the pans and place them on cooling racks.
References