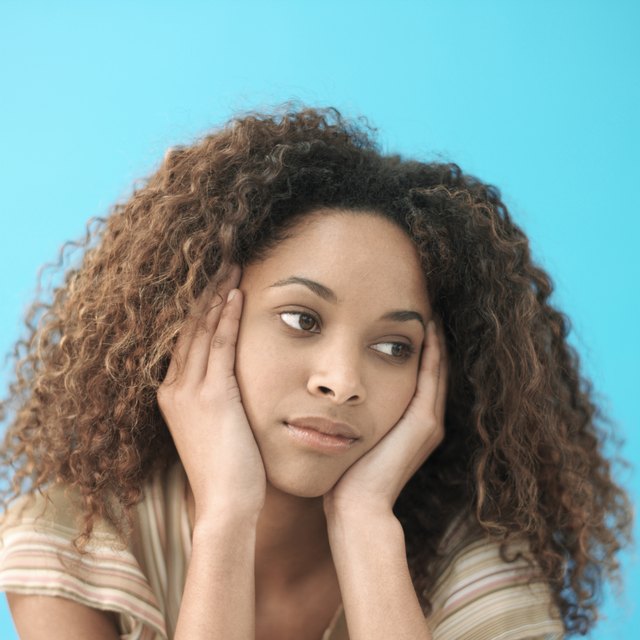 Stockbyte/Stockbyte/Getty Images
Relaxers have proven to be quite a convenience for women with naturally kinky hair. Having a relaxer in your hair may make daily styling a snap, but sometimes you may want to play with a more natural look. Your hair's ability to look unprocessed even with a relaxer often depends on how strongly relaxed it is, but you can still get any head of relaxed hair close to the kinky, natural texture you desire.
Divide damp hair into six or eight sections after shampooing and conditioning. Braid each section, starting close to the scalp and braiding all the way down to the ends of the hair. Allow the braids to air-dry thoroughly. Once the hair is dry, unbraid each section and gently style the hair as you see fit using your fingers.
Skip the braiding process and simply let your hair air-dry. When your mane is almost completely dry, put a dollop of mousse on your hands and apply it gently to the hair, scrunching sections during application. Use a medium-toothed comb to tease the roots a bit if you wish as this will give your hair more volume. Continue to scrunch the hair until dry.
Clip on natural-texture extensions. Natural-texture extensions are often used to create afro-puff styles. Simply slick your hair into a ponytail and clip the extensions on over your own hair. Natural extensions and hairpieces can be purchased at just about any beauty store. To choose hair extensions that are close in color to your own hair, hold the extensions next to your own hair in natural light to compare the color before purchasing.
Tip
Let your natural roots grow in. Having a half-inch or more of roots in your naturally wavy texture can help the rest of your relaxed hair to fall into a kinkier curl pattern. Consider using a curl-activating serum, such as one made by Motions, Luster or John Freida, in place of mousse for softer and bouncier hair.
Warning
If your hair is dry, brittle or porous, avoid any hair products that contain alcohols, as this will exacerbate the problem. Do not tease your roots if you have more than an inch of new growth as this could lead to kinks in your hair that will be painful to untangle and may cause hair breakage. Consult with your stylist before using any products you are unsure about.