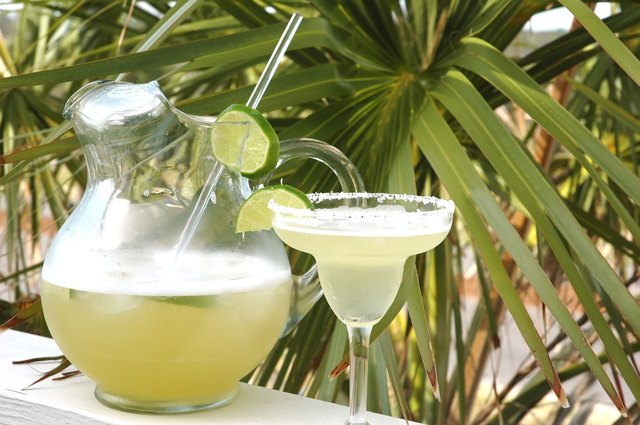 The margarita is a popular cocktail made primarily from tequila. The refreshing drink is generally found on menus in Mexican and Tex Mex restaurants. It can be made in most any bar and is easy enough to make at home. Margaritas can be served on the rocks or frozen, but the best way to serve a crowd is to make margaritas by the pitcher.
Pour 1 ½ cups of gold tequila into a pitcher.
Add ¾ cup of Triple Sec and 2 tbsp. of sugar to the pitcher.
Squeeze ¾ cup of lime juice from fresh limes.
Pour the freshly squeezed lime juice into the pitcher.
Stir the mixture in the pitcher until the sugar dissolves.
Add crushed ice to the pitcher or margaritas.
Use lime wedges to moisten the rims of margarita glasses.
Pour 3 tbsp. of salt onto a small plate.
Hold the glasses upside down and dip the moistened rim into the salt.
Fill each glass with the margarita from the pitcher.
Garnish each glass with a lime wedge.
Tips
For a premium pitcher of margaritas, use premium gold tequila and replace the Triple Sec with Cointreau.