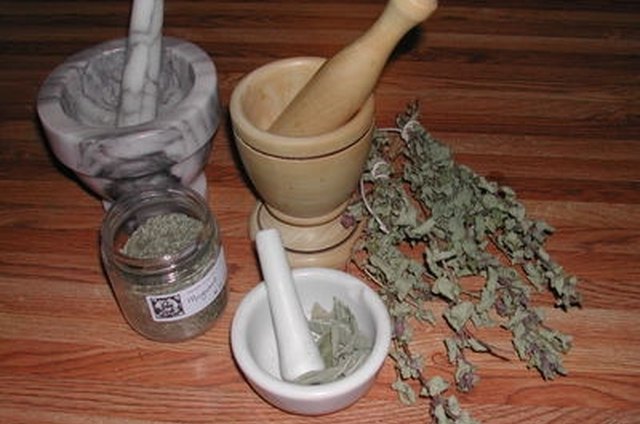 http://z.about.com/d/paganwiccan/1/5/8/-/-/-/Dscn3520.jpg
Incense can be used for a variety of purposes. Making your own can be rewarding and fun. The benefit is being able to customize the incense for your own personal tastes and needs. The combinations of scents is endless. Read on to discover how simple it is to make your own incense using essential oils.
Prepare the incense recipe. Follow the recipe when measuring out ingredients. If you are grinding any ingredients, be sure to wait until after grinding before measuring them out.
Grind the herbs in the order of their smell, using a mortal and pestle or coffee grinder. Incense has top, middle and base notes. You typically smell the lightest scents, or top notes, first. Grind any light scented herbs first. Base notes consist of the strongest scents, such as musks. Grind any strongly scented herb last. Middle notes are strong but not overpowering. An example of a middle note would be vanilla or rose.
Place each ingredient into the gallon-sized Ziploc bag. Shake well.
Add the essential oils to the dry ingredients using an eye dropper. A few drops of each oil is all that is needed. Mix the oils thoroughly with the ground herbs. Be sure to mix up any dark spots and break up and balls that may have formed.
Add the base oil to the mixture, once it smells as you want it to. Add the base oil in small amounts. Be careful not to make the incense wet. Add the base oil until the mixture is tacky.
Form the incense into small, cone shapes.
Tip
The following herbs are often used when making incense: :Sandalwood, Myrrh, Lavender, Rose petals, Cedar, Cinnamon, Nutmeg and Bay. The following oils are often used when making incense: Patchouli, Jasmine, Eucalyptus, Peppermint and Rose. Be sure to use essential oils, not perfume oils. It is very useful to have several eye droppers handy when making incense. Incense takes a week or two to set up. If you burn the incense before then, it will be very smoky.
Warning
Ingredients like mace, pepper and asafoetida produce a smoke that is very unpleasant and often causes allergic reactions. Base oil will make the incense last longer. However, it will produce heavy smoke if not left to set long enough. If you have to burn your incense right away, leave the base oil out.