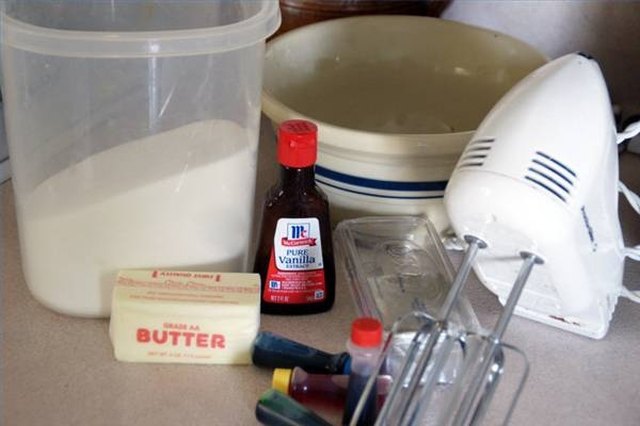 You can decorate your cakes at home using homemade color paste. If you don't have a cake decorating kit with pastry bags and decorator tips, you can improvise by filling a small plastic food storage bag with the color paste, and cutting a small hole in one corner of the bottom of the bag. When squeezed, the paste will be pushed from the hole and can be used to draw on your frosting. But first, you need to make the color paste for the bag.
Combine the shortening and butter in the bowl and beat with a hand mixture until well blended.
Add the water, sugar and vanilla to the mixture and beat with the hand mixer until well blended.
Divide mixture into several bowls. Each bowl will be a different color. If you want to make two different colors, this batch will make about 1/2 cup of each color. If you want to make three colors from this batch, it will make about 1/3 cup of each color.
Add a drop of food coloring to one bowl of frosting, and use the fork to blend well. If you want a darker color, add more coloring. Food coloring can be combined to make additional colors, for example, red and blue can be combined to make purple.
Beat 1 teaspoon of milk into a cup of paste to make a medium frosting. This recipe is for a "stiff" paste. If you want a paste that is medium instead of stiff, mix in the milk, but do not overbeat.
References