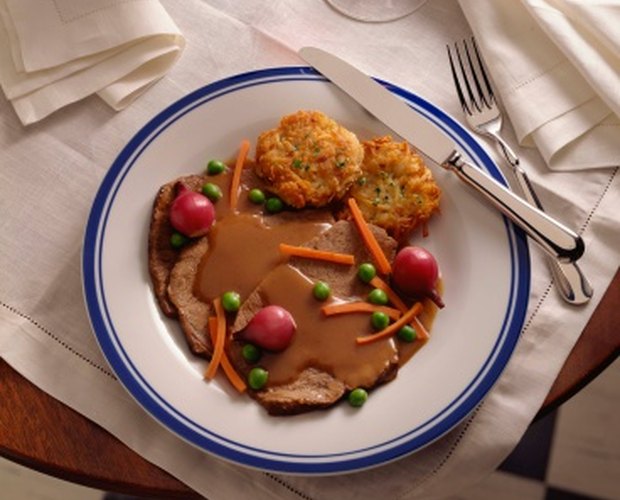 Jupiterimages/Comstock/Getty Images
A pot roast dinner with slow-braised beef and roasted vegetables definitely needs gravy. Here's a version that uses just a few ingredients and is easy to fix. Be sure to have plenty of dinner rolls on hand to sop up the gravy.
Measure out the flour (1/4 cup) into a small saucepan.
Use a fork to stir in an equal amount of cold water (1/4 cup). Don't use warm water for this step. Stir until it is well mixed and not lumpy.
Prepare 1 cup of beef broth. There are two ways to get the broth. You can collect it from the roasting pan, but the drawback is it has fat in it. The second way, dissolving a beef bouillon cube in hot water, is low-fat, but higher in salt.
Stir the hot beef broth into the flour and water mixture.
Heat this on the stove on medium to high heat. Stir frequently to keep it from getting lumpy and sticking to the pan. It should bubble gently.
Once it thickens to the consistency of gravy, pour it into your gravy boat or serving dish. If it seems lumpy, you can strain it through a sieve into the serving dish.
References