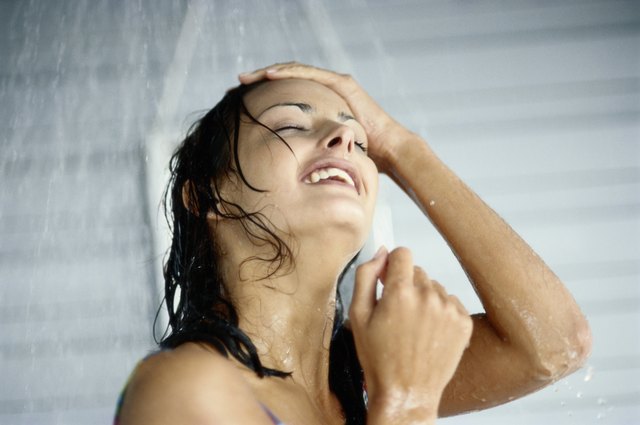 Hoby Finn/Digital Vision/Getty Images
Organic hair products are not hard to come by. Although it is possible to buy goat milk shampoo, making homemade organic shampoo is possible as well. Goat milk has many proven benefits. The pH in goat's milk is the same as in human skin and modified goat milk is often added to commercial cosmetics. You can easily make your own goat milk shampoo from the comfort of your own home.
Heat the water in a pan and choose from many scented herbs such as fresh chamomile, lavender or rosemary. Chamomile is good to make blonde hair lighter. Lavender is good both for oily and darker hair, and rosemary helps darker hair. You can also combine some herbs like rosemary, lavender and peppermint together to make the shampoo smell even better.
Wrap the herbs you chose in a clean cloth. Tie the cloth with a string. In a pan, heat the water until it boils. Drop the herb pack into the boiling water. Cover the pan and turn off the stove. Let it stand until the herbs seep into the water. This will make a strong tea.
Wring the herb pack by hand to get the water out of it. The juice from the herb pack will bring the aroma into the water. If you prefer not to wrap the herbs in a cloth, let the herbs soak directly in the water. Use a strainer to make sure that no residue remains in the water once the herbs have been taken out.
Add a drop of vanilla or any scented oil of your choice, and then add it to the herbal tea. Add the goat milk, liquid castile soap, and olive oil to the tea. Mix it well. Milk has protein and since hair is ninety percent made of protein, milk will make it stronger and shinier.
Pour the mixture in a dark bottle. Make sure that the shampoo has cooled down before pouring it in the bottle. Shake it well. Homemade shampoo is best stored in a dark container since light can have an adverse effect on the organic elements.
Tip
People have different hair types, but since goat milk is safe for almost every hair type, you can adapt your hair by adding additional ingredients such as Aloe Vera for dry hair types, coconut oil for dry scalp and peppermint tea to soothe soreness.
Warning
Although homemade products are recommended, be sure that you are not allergic to any of the ingredients used in making your shampoo. If you experience any skin allergies, stop using the shampoo until you have consulted with your doctor.