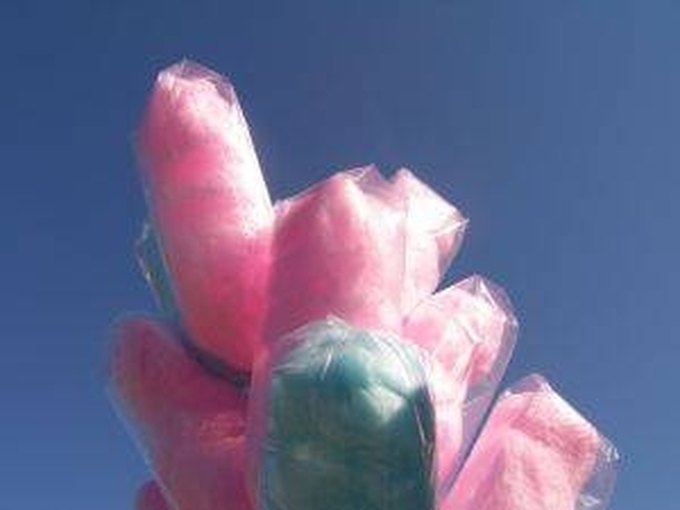 Most kids, and even some adults, love cotton candy, but it's not always practical to make at home. Luckily, you no longer have to wait for the carnival to get your cotton candy fix. Using this method, you can make cotton candy without a machine, or any type of expensive equipment. All you need are a few common pantry items, a v-rack, and some newspaper to whip up a batch of the sugary delight in minutes.
Mix water, light corn syrup, and sugar in a saucepan. Place the food thermometer in the saucepan, and heat on medium heat until the liquid reaches 300 degrees F, stirring occasionally.
Remove the pan from heat and pour the sugar solution into a heat-proof bowl. Add 3 to 5 drops of food coloring in your choice of color, and stir thoroughly with an open-ended whisk.
Lay several sheets of newspaper over a flat working surface, such as a tabletop or counter, and set the v-rack on top of this. The newspaper will protect your work surface from the sugar solution, and cut down on clean-up.
Submerge the end of the whisk in the sugar mixture and drizzle across the v-rack. Repeat several times to create several strands of cotton candy.
Allow one to two minutes for the cotton candy to dry, and then collect the strands from the v-rack using a fork.
Roll the cotton candy strands continually to create a large ball on the end of a fork. Place in a paper cone, or eat directly from the fork, as desired.
Tip
If an open-ended whisk isn't available, cut the ends of a normal whisk with wire cutters for a make shift version. V-racks are used to hold meat off the bottom of roasting pans, and can be purchased most anywhere kitchen wares are sold (see Resources). To store the cotton candy, wrap in plastic wrap and store in a cool, dry place. Discard after three days if it has not been consumed.