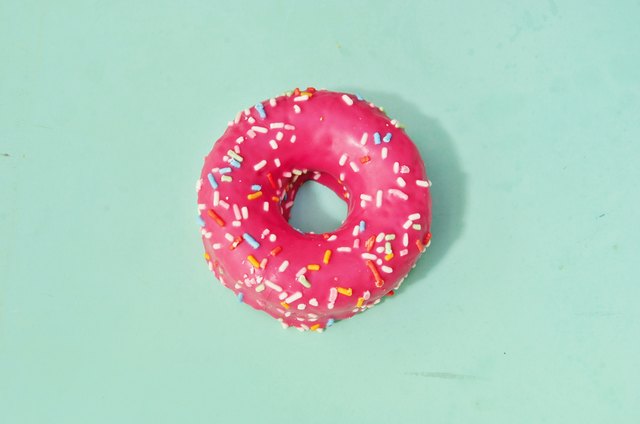 Donuts are literally a hot commodity. People love the warm sweetness of a freshly made donut. When you make donuts, it is important that they look and taste the way customers expect so that they keep coming back for more. Read on to learn how to make commercial donuts.
Learn About Kitchen Prep
Get all the ingredients. These may be raw ingredients such as flour, sugar, milk and eggs. Some donut shops have pre-made donut mixes that are shipped in bulk from a central distributor.
Procure or inventory the equipment. Assemble and clean everything before you begin. A larger donut shop typically uses industrial mixers and deep fryers or ovens. Make sure you have enough clean pans and cooling racks for the number of donuts you will make. Check all equipment to be sure it is in good working order. Be sure your kitchen is in accordance with all sanitation and workplace safety regulations.
Familiarize yourself with all the equipment and products. While donuts can be delicious whether they are baked or fried, you need to know how to prepare them properly for the specific commercial enterprise.
Review the types and amounts of donuts to make. Usually commercial donut shops have several types of donut to sell. Read the recipes carefully and make a small practice batch of each type of donut to master the technique before preparing a batch to sell. You may need to master new offerings periodically. For example, a shop might sell pumpkin donuts in the fall or donuts decorated for Valentine's Day in February.
Make the Donuts
Wash your hands thoroughly before you make the donuts.
Follow each recipe carefully as you mix the donut batter. Also prepare any glazes, frostings, fillings or decorations that you will need for the batch of donuts at hand.
Roll out the dough or fill the fryer funnel with the batter.
Bake or fry the donuts, then remove them from the oven or fryer and let them cool. The recipe helps you determine when a donut is "done," but as you gain experience, you will be better able to make the call.
Decorate the donuts once they cool. For example, add glazes or icing and decorate with sprinkles, as appropriate. Add any fillings, such as jelly or fruit, at the appropriate time.
Lay out the donuts on trays or plates for the display case or package them for distribution. If packing the donuts for distribution, label them and note the date that they were made.