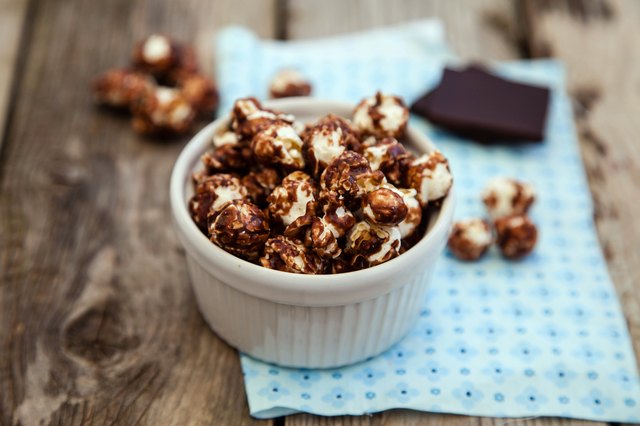 You can't go wrong with chocolate-covered popcorn—it satisfies a craving for a crunchy snack and dessert all in one. But this gourmet offering usually isn't cheap. Save a few bucks and cook up your own batch; it also makes a lovely hostess or birthday gift.
Pop the Popcorn
Add a thin layer of vegetable oil to a large pot over medium heat. Pour kernels into the pot (1/2 cup of kernels yields approximately 16 cups of popcorn). To make kettle corn, add white or brown sugar to the oil.
Cover the pot with a lid and lift it above the heat. Shake the pot continuously to keep the kernels from burning. After the popping sound slows to between 2- and 3-second intervals, remove the pot from the stove.
Transfer the popcorn into a large bowl and let it cool. Stir the sweetened kettle corn occasionally to break up any clumps.
Melt the Chocolate
Fill a saucepan with 1 inch of water and set it on medium heat. Let the water come to a simmer but do not boil.
Place small chocolate pieces or chips into a dry glass or metal bowl.
Cradle the bowl over the simmering water in the saucepan; stir gently until the chocolate melts about halfway. Remove it from the heat and continue to stir until it melts completely.
Tip
Instead of the double-boiler method above, you can use a microwave at 50 percent power to melt the chocolate. Microwave the chocolate in a non-glass, microwave-safe bowl for 30-second intervals. Stir the chocolate after each interval, repeating the process until the chocolate turns creamy and smooth.
Drizzle the Chocolate
Pour the melted chocolate onto the cooled popcorn and use a dry mixing spoon to gently toss the chocolate and popcorn together.
Cut one or several pieces of parchment paper large enough to accommodate the popcorn.
Pour the chocolate-coated popcorn onto the parchment paper, spreading it out in one layer. Set the popcorn aside and let it cool and harden.
Tip
Substitute air-popped or microwave popcorn if you prefer.
Drizzle melted dark and white chocolate over popcorn spread in a layer on parchment paper. This method works well with candy-coated kettle corn. Sprinkle the coated or drizzled popcorn with nuts, crushed candy canes, candy pieces or sea salt.
For gift giving, place chocolate-covered popcorn in a decorative plastic bag and tie it with a ribbon.
Warning
Although the microwave melts chocolate quickly, this method leaves more room for error. Stir often.
Use dry utensils when melting chocolate because moisture makes it gritty.