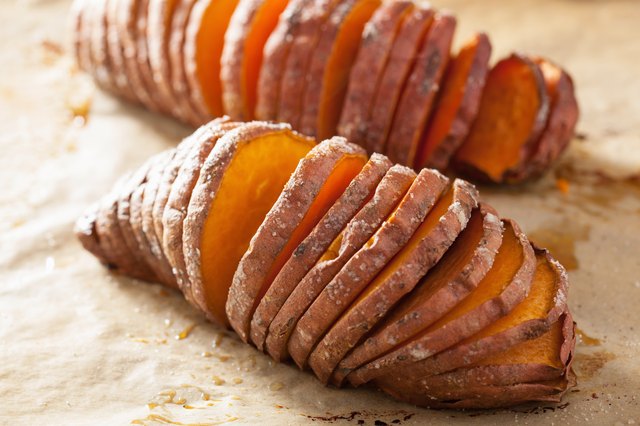 Make a baked sweet potato fast -- really!! What if I said you can make this delicious dinner potato without baking for longer than approximately a half hour? It is very possible that you can do this all in about 45 minutes (plus or minus) instead of 1-1/2 to 2 hours. See the method below to get yummy, soft, smooth sweet potato that no one will know how quick they are unless you tell them.
Cut off any bad spots, and scrub the skins of the sweet potatoes to be baked. This will ensure that if someone eats the skins, they are clean. Pierce the sweet potatoes with a fork or use a knife with all piercing done on one side. Do not do this more than 3 times per potato unless it is really large. Set the pierced side up in bowl.
Place in a single layer in a large casserole bowl with lid. Pour in enough cold water to come halfway up the potato. The potatoes need to be kept very moist to prevent them from drying out. The water will also generate steam inside the covered bowl to help cook while it microwaves.
When desiring to bake many sweet potatoes at once, alternate them in two bowls with lids.
Place potatoes as prepared in microwave at 8 minutes on high. Using potholders, remove lid or pull from microwave oven and check one or two of the sweet potatoes for softness with a fork. Depending on the size of the sweet potato and number in the bowl, this step can need repeated 2, 3 or more times. It would be best for the second time at 5 minutes, and if needed a third time, reduce time to 3 minutes. If the sweet potatoes are still raw inside, repeat in 3 minute intervals until soft. Microwave time will depend on size and number of sweet potatoes.
The potatoes need to be soft or just about done, and time each baked sweet potato needs microwaved will vary with the amount of potatoes and thickness.
Carefully remove sweet potatoes and immediately wrap pierced side up in aluminum foil, piercing steam holes in the foil. Immediately place on oven rack at 350 degrees. Potatoes should be ready to eat in approximately 20 to 35 minutes.
Be careful handling the hot sweet potatoes from microwave. A pair of tongs will make your job easier and save burned fingers.
Tips
Sweet potatoes that have been microwaved and baked are done much faster than baking alone and will save time.

Serve baked sweet potatoes with honey, brown sugar, butter or maple syrup.

One large sweet potato can feed two people or three children whose portions are smaller.
Resources