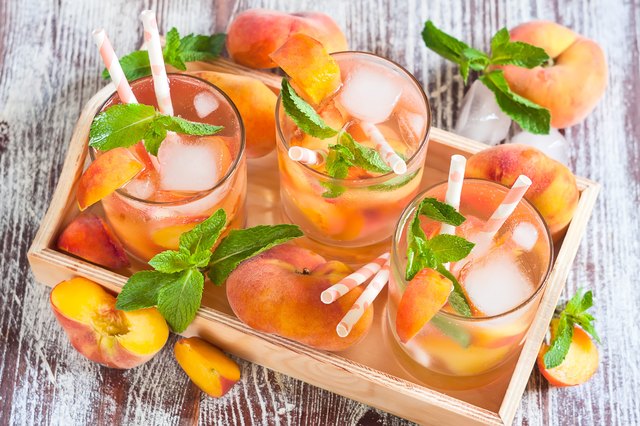 From lunch to dinner and throughout Sunday brunch, Applebee's patrons enjoy a wide selection of signature cocktails. The restaurant chain's sangria concoctions are among the most popular with the younger clientele, and the white peach version from Copycat Recipe Guide has a light, refreshing flavor that pairs nicely with appetizers and salads.
In a large wine glass filled less than halfway with crushed ice, mix two parts white zinfandel wine with two parts peach schnapps. Add one part pineapple juice and three parts lemon-lime soda of your choice. Stir well.
Sangria is definitely all about the fruit. To do it like Applebee's, you have to have a frozen green grape. Cut it in half and spear it on a long cocktail pick along with a lime slice and an orange slice. Plop a maraschino cherry into the glass and lay the colorful speared fruit across the top of the glass.
The peachy taste of the sangria goes well with Applebee's appetizers such as spinach dip or kobe-style meatballs. For a light meal, pair it with the Oriental chicken salad or Thai shrimp salad.
Make it for a crowd by using the same proportions in a pitcher, and adding the fruit garnish after each drink is poured.

Use both red and green grapes in the garnish.

Use rose wine for a color variation.

Frozen peach slices make your drink even more peachy.

Swap out the peach schnapps with frozen peach vodka.