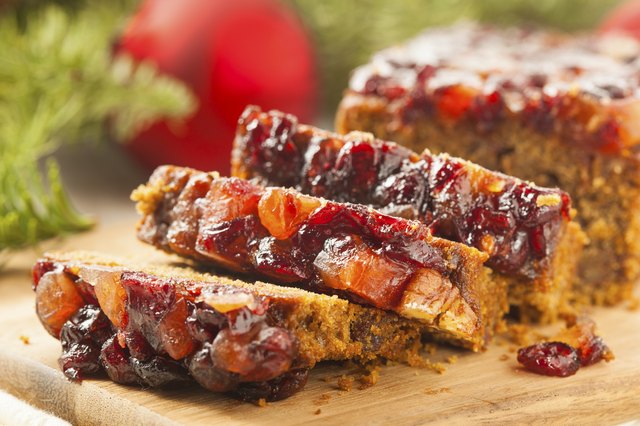 bhofack2/iStock/Getty Images
Start to Finish: Soaking time, overnight; 4 hours of prep and baking; plus 1 month minimum of aging Servings: Five 6-inch cakes Difficulty: Advanced
Fruitcakes get a bad rap for their long life and dense texture, but this holiday treat is actually an art to make, and fruitcake connoisseurs appreciate the effort. Made traditionally with dried, candied fruits, nuts and spices, then soaked in spirits for several weeks, a homemade fruitcake is far superior to the commercial versions you purchase at the grocery store.
Fruitcakes come in two basic varieties: light and dark. A light fruitcake features light corn syrup, golden raisins, dried apricots, candied pineapples and slivered almonds. The dark version is sweetened with molasses and brown sugar, and usually contains dried citron, candied cherries, raisins, dates and pecans. The following recipe is for a dense, heavy and dark fruitcake, which requires aging for at least a month. Make multiple cakes for gift giving or to enjoy for up to six months after the holidays end.
Ingredients
Fruit Preparation 4 pounds candied and dried fruits, including candied citron, glace cherries, candied orange and lemon rind, dried apricots, dried dates, raisins, dried calymyrna figs, candied pineapple and dried currants 2 to 3 cups orange liqueur, such as Grand Marnier 2 to 3 cups cognac 1/4 to 1/2 cup all-purpose flour
Cake 1 pound, or four sticks, unsalted butter, softened at room temperature 2 cups dark brown sugar 8 large eggs 3/4 cup molasses 2 cups all-purpose flour 3 tablespoons cocoa powder 1 teaspoon ground mace 1 teaspoon ground cinnamon 1 teaspoon ground cloves 1 pound walnut halves * 1 pound pecan halves
Additional liqueur, such as Grand Marnier, cognac or brandy, for aging
Prepare the Fruit
Place the candied fruit into a large bowl. Top with the Grand Marnier and cognac. Allow to soak at least overnight or for several days. This softens and plumps the fruit. Drain, reserving the liquid. Toss the fruit with the flour until it is just lightly coated.
Prepare the Cake Batter
Preheat the oven to 250 degrees Fahrenheit. Use butter or cooking spray to grease the bottoms and sides of five 6-inch round cake pans. Line the bottom with parchment paper cut in circles to fit.
In the large bowl of an electric mixer, beat the butter until it appears light and fluffy. Add the brown sugar and mix thoroughly. Beat in the eggs, one at a time.
In a separate bowl, sift together the flour, cocoa and spices.
Add about 1/3 of the flour mixture to the batter and beat the batter; once the flour is mixed in, add about 1/4 cup of the molasses. Continue to alternate until you've used all the ingredients.
Remove the bowl from the mixer and transfer the batter to an extra-large bowl. Stir in the fruit, the reserved fruit marinade and the walnuts and pecans.
Divide the batter among the five pans. Bang the pans lightly on the counter to remove any air pockets. Place in the oven and bake for 3 to 3 1/2 hours, or until an inserted toothpick comes out clean.
Cool in the pan for 5 to 10 minutes and then invert onto a wire rack. Brush the tops of the cakes with a tablespoon of brandy or Grand Marnier while still warm. Cool completely.
Ripening the Fruitcake
Fruitcake's flavor improves with age. To ripen the cakes, soak cheesecloth or a clean kitchen towel with the Grand Marnier or brandy and wrap the cakes tightly. Then, wrap again with aluminum foil, a plastic zip-top bag or plastic wrap. Place in the refrigerator for a month at least, or for two to three months. You may also cure it for 2 weeks in the refrigerator and then freeze it, still wrapped, for a year or more.
For even longer-term storage, place a cup of powdered sugar in a tin and lay the liquor-soaked fruitcake on top. Cover completely with additional powdered sugar and seal tightly with the tin's lid. The website What's Cooking America notes that cakes can be stored for up to 25 years this way.
To serve the cake, saw a slice off and top with hard sauce, or a powdered sugar and milk glaze. Warm fruitcake that's slightly stale or dry in a microwave or steamer.